WHO WINS THE ELECTRIC SMOKER V/S GAS SMOKER BATTLE?
For all the die-hard foodies out there, authentic food brings them pleasure. For meat-eaters, a thick juicy well smoked piece of steak along with red wine sounds like a marvelous evening!
The difficulty arises in purchasing a correct smoker to smoke the piece of meat for a perfect evening. There are a variety of factors that can influence your chase. Before popping open a bottle of wine, resolve your choices about the pros and cons of an electric smoker and gas smoker.
Are you still confused whether to go for a conventional gas smoker or an advanced electric smoker? It can be a tricky choice. You need to prep up before coming to any final conclusions.
Here are some key differences that would help you choose the correct smoker for your needs and preferences!
SAFETY COMES FIRST!
Before investing in any type of smoker, ensure that it is safe to use, especially with kids around the house. Read the instructions and manuals well, before making an investment!
If you are looking to retain proteins from the meat, an electric smoker would be a clear winner! The electric smoker is electronically monitored with the heating contained in the unit which is awesome as it can prevent any future accidents!
Whereas, a gas smoker has an open propane line, which is certainly something to be cautious about! This can be especially dangerous around kids and should only be managed by skilled adults. Keep in mind precautions are to be maintained at all times.
IS IT AFFORDABLE?
Both electric smokers and gas smokers vary in price ranges. Branded electric smokers can be relatively on the higher end as far as price is concerned and the price of gas smokers are relatively cheaper as compared to electric smokers.
If you are looking at the better models (which you can learn more about at Cookout Pal), the prices of electric smokers tend to sky-rocket. For maximum utilization and better decision making, take into account the long term use and the electricity it consumes.
Gas smokers are usually a much better bargain for the larger cooking or smoking surface and propane can be reliable, despite weather conditions, making these models a good, trustworthy choice.
UNCOMPLICATED?
Gas smokers are a conventional means for smoking meat. You need to know about the basics about how to use a gas smoker before getting started. Make sure you do some research of your own before purchasing a gas smoker.
Whereas, an electric smoker is relatively uncomplicated. You can simply read the manual with instructions before operating an electric smoker and get to it. It is relatively easier than a gas smoker as you don't have to worry about maintaining the temperature constantly, unlike when smoking on a gas smoker.
These days, the electric smoker can easily be synched with your smart phone to give you timely updates. It makes the process hassle-free. Plus the electric smoker is modernized and efficient.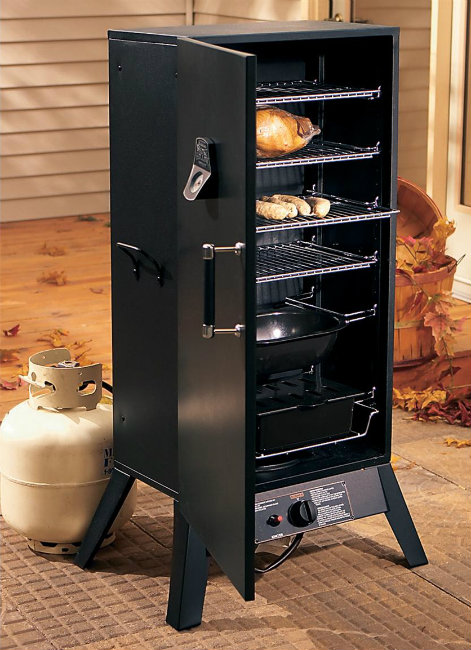 HEATING:
Electric smokers can attain high intensity heat to cook the meat perfectly. The temperature is monitored constantly and the electric smoker has a consistent temperature, as it works automatically. The technology is advanced and requires minimal input. It is fine piece of technology.
With a gas smoker, it requires your constant attention. It is a primitive way of smoking your food. The advantage is that it can attain higher temperature compared to an electric smoker. You need to timely regulate the intensity of the flame and adjust it, to achieve consistent cooking temperatures.
WHO WINS?
If you are into a traditional means of cooking, a gas smoker would be the perfect fit for you. You need to make sure you have the time and patience for cooking using a gas smoker and remember that it is a true skill to learn to cook on a gas smoker efficiently and with delicious results. Keep in mind also that the electric smoker is unable to accomplish the higher temperatures that a gas smoker provides and this is important if you prefer your proteins smoked at a higher temperature. Just make sure, you do your research about the workings of a gas smoker. It is tedious process, but if you are a fan of authentic meals, this is the way to go!
Whereas, if you would like to sit back and enjoy your time, save yourself the time and hassle of cooking by purchasing an electric smoker. The process would be the simplest and the most effortless, so you can enjoy your seamless piece of steak along with red wine for the picture-perfect evening!
There you go! You can now peacefully enjoy a well-cooked meal with your loved ones, whether you choose to use an electric smoker or a tradictional gas smoker.