My Savvy Review Of The Shimmer and Shine: Magical Mischief DVD PLUS a Recipe For Hot Chocolate Bombs
I am super excited to share the Shimmer and Shine: Magical Mischief DVD with everyone that I know as my little Scarlet absolutely loves it and your kiddo will too as mischief is on the horizon in this newest Shimmer and Shine DVD. Let's take a look….
Shimmer and Shine: Magical Mischief:
Mischief is bubbling up in eight spellbinding tales! When Zeta conjures up ways to steal Leah's voice, trap Princess Samira, shrink all of the genies & more, Shimmer and Shine must use teamwork and genie magic to save the day! Plus, see how Zeta & Princess Samira first met.
Shimmer and Shine: Magical Mischief episodes:
*Size of the Beholder
*Zoomicorn Toss
*The Glob
*The Silent Treatment
*Trick or Treasure
*Easy as Pie
*Genie for a Day
*Samira & Zeta: The Magic Begins
Shimmer and Shine: Magical Mischief, as they battle their nemesis, Zeta the Sorceress. Arriving on DVD January 26, 2021, preschoolers will be taken on eight magical and spellbinding adventures as Zeta continues to cause chaos in Zahramay Falls. Shimmer and Shine: Magical Mischief DVD will be available from Paramount Home Entertainment and Nickelodeon Home Entertainment for the suggested retail price of $10.99.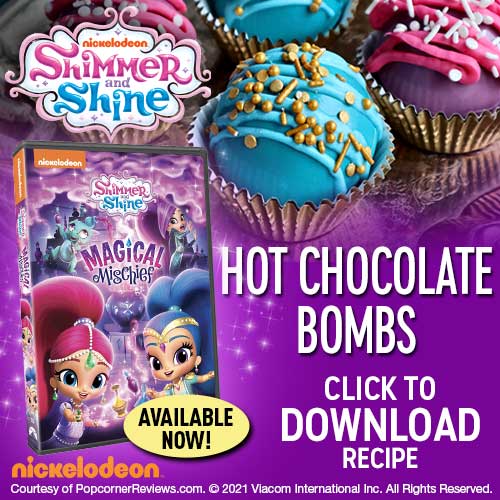 Boom Zahramay! Add a bit of sparkle to cold winter days with this recipe for Hot Chocolate Bombs. SHIMMER AND SHINE: MAGICAL MISCHIEF is now available on DVD!
About Nickelodeon
Nickelodeon, now in its 41st year, is the number-one entertainment brand for kids. It has built a diverse, global business by putting kids first in everything it does. The brand includes television programming and production in the United States and around the world, plus consumer products, digital, location based experiences, publishing and feature films. For more information or artwork, visit http://www.nickpress.com. Nickelodeon and all related titles, characters and logos are trademarks of ViacomCBS Inc. (Nasdaq: VIACA, VIAC).
Deliciously Savvy unrelieved product and/or compensation in exchange for an honest and unbiased review and all opinions are 100% my own. This post contains affiliate links and I may make a small commission used to support this blog if the product is ordered via the links in this post. Thanks for stopping by and enjoy!