Enjoy A Good Nights Sleep With PeachSkinSheets! @PeachSkinSheets @SMGurusNetwork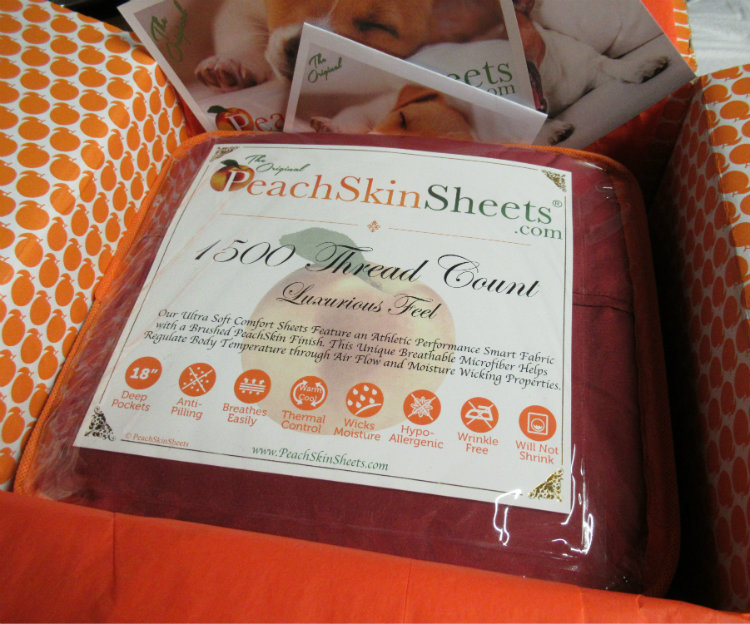 Deliciously Savvy received this product in exchange for an honest and unbiased review and all opinions are 100% my own. Regardless, I only review products that I am truly interested in for myself and my family and of course for sharing those reviews with my savvy readers. Thanks for stopping by and enjoy!
It is no secret to anyone that knows me that I am a huge fan of PeachSkinSheets and have been for quite some time. They are truly the softest and most comfortable sheets that I have ever owned and I will never use anything else. Not only are they amazingly comfortable but as a hot sleeper….. PeachSkinSheets are the perfect solution for me. They are breathable, ultra soft, anti-pill (which is HUGE for overall comfort) and anti-snag bed sheets that provide thermal control and moisture management properties. These sheets help warm sleepers to stay cooler and cool sleepers to stay cozier. They are made of a durable athletic grade performance SMART fabric that wicks away moisture to keep you drier and comfortable all night long. My favorite part is that they are a luxurious 1500 thread count soft which gives the sheets a super soft feel with a brushed PeachSkin finish on both sides! PeachSkinSheets are available in so many beautiful colors and in any size you may need. There are sizes for Split King, Cali King, King, Queen, Full, Twin, XL Dorm Twin and XL Dorm Full. There truly is a set for everyone and every size and with the Holidays around the corner…. there is no better gift for everyone on your list!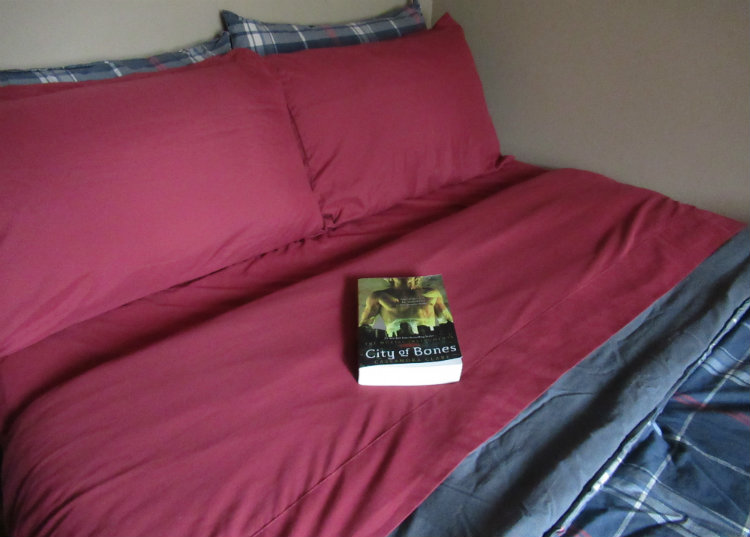 I also have to mention that PeachSkinSheets have a wrinkle release feature that is activated in the dryer on low to medium heat in about 20 minutes after washing. That is super convenient as I simply tumble dry my PeachSkinSheets and I can then make my bed immediately afterwards and I have perfectly smooth and wrinkle free sheets every time.



I also have to stress that not only are PeachSkinSheets the best sheets ever but they are also packaged beautifully and look amazing when you open them up. PeachSkinSheets really goes that extra step to ensure the packaging is top notch and fabulous looking which is important to me as it shows that quality is their #1 priority. The sheets themselves are simply the best and I am a customer for life.
I also love to take advantage of PeachSkinSheets best deals by stocking up on the colors I need when they are the Colors Of The Month. Each and every month, PeachSkinSheets offers 2 to 3 colors of sheet sets that are $55 for any size set… including King. January's colors are Vanilla Bean, Brushed Silver and Harvest Gold which are truly gorgeous colors. The color selection will change each month… so be on the lookout for your favorite(s).
Did you know that PeachSkinSheets also carries Duvet Sets? Well they do and they are just as fabulous as their sheets and you can pick up the same Colors Of The Month each month for their Duvet Sets PLUS the Split King Sheet Sets at an amazing price of $75! Check them out today.
You can learn all about what makes these sheets so amazing and different by checking out the PeachSkinSheets at-a-glance Benefits Guide.
Check out all of the gorgeous colors available as well! I chose the PeachSkinSheets In Deep Crimson Red this time, as it matches my bedding so perfectly and looks amazing. It is such a rich and deep gorgeous color and wash after wash… it stays true.

You can visit

HERE to request swatches of their sheets to ensure the perfect match every time!

PLUS…..You Can Take Your PeachSkinSheets® to the Next Level with PeachPerfectPaint™ Match and Benjamin Moore Products! Visit PeachSkinSheets.com to see the perfect paint match for your favorite PeachSkinSheets color provided and brought to you by Benjamin Moore. You can read all about it here.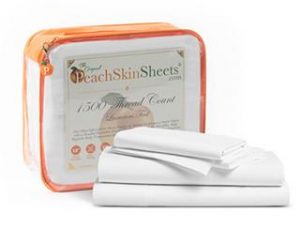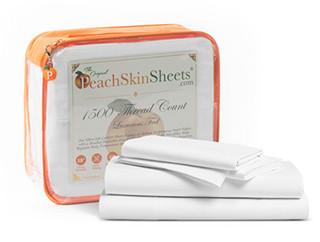 So what do you think? Are these not the most fabulous sheets ever? You have to check them out and receive a set of your own…. you will be hooked like me and switch every set of your sheets over to PeachSkinSheets as they truly are the best!

Check Out This Cool Infographic From PeachSkinSheets!
PeachSkinSheets Bed Sheets for Hot Sleepers
As Always, Thank You For Visiting Deliciously Savvy and Leave Some Comment Love While You Are Here!
Announcement List