My Savvy Review Of Delilah Home's 100% Organic Kitchen Towels @DelilahHome
It is no secret that I am a huge fan of sustainable living and that I am doing my part to try and reduce my families carbon footprint. We even took this into consideration when purchasing our new home. We purchased a smaller home as not only was it much more affordable for us but it also costs a lot less to heat and cool and that means we are saving energy. We have also changed other aspects of our lifestyle and now grow our own vegetables and herbs, have reduced the use of paper products as much as possible in our home, actively work to save energy by upgrading the insulation in our home and making sure to turn off any electronic device or light that is not needed, to reusing and recycling everything that we can. Gone are the days of purchasing bottled water as we use reusable water bottles to take with us on the go and now… I am looking to outfit my bathroom and bedrooms with 100% organic cotton towels and sheets as that too is sustainable living. This is why I jumped at the chance to give Delilah Home's new kitchen towels a try and the reason I love all of their Organic Cotton products and will continue purchasing them whenever I need them.
Now you may be wondering how is organic cotton considered to be sustainable? Well it has to do with the fact that organic cotton can be grown using 91% less water than non-organic cotton plants and it produces fewer greenhouse gas emissions when processing the cotton itself. To me that is huge plus add to that the fact that organic cotton is more durable than traditional cotton and that it lasts much longer and it is a win win for both you and the planet. Delilah Home believes in the sustainability of organic cotton and this is why they make the fabulous products that they do… using quality 100% organic cotton certified to the Global Organic Textile Standard (GOTS). I also love that Delilah Home textiles do not contain allergenic carcinogenic, or toxic chemicals commonly used in conventional textile production which makes all of their products ideal for people with allergies, skin sensitivity and respiratory problems.
Now I want to share how much I am loving the new line of kitchen towels that Delilah Home has put out. I picked up a set of their towels and am loving them. They are hands down the softest and most absorbent set of kitchen towels that I have ever had the pleasure of owning and/or using and I will be picking up another set as I am going to place my older non-organic kitchen towels with all 100% organic cotton and I will donate the older ones when I do.
Now these new Kitchen Towels from Delilah Home are European-crafted, plush and luxurious towels made of 100% organic cotton. To make these cotton towels, Delilah Home begins with long-staple, 100% organic Turkish cotton, certified to the Global Organic Textile Standard (GOTS). They spin this Turkish cotton into fine yarns and loom it into long, two ply, double loops that make the most of the fiber's extraordinary length. The end result is a lofty towel with a soft, fluffy pile that feels plush yet lightweight. Extra-long loops create a luxurious surface that gives these highly absorbent towels a relaxed, welcoming style and they feel much thicker than their 500 grams per square meter.
These fabulous 100% organic kitchen towels are up to 50% thicker than most towels and they come in a checkered design in two colors… white/beige and sea blue as well as a Butterfly pattern in white/tan and cool blue. I am thinking of gifting a few sets to some of my favorite people this Holiday season too.
*500 Gram Thread Count
Extremely thick and durable with over 500 gram weight and over 50% thicker than most kitchen towels.
*100% Organic Cotton
Made from 100% organic cotton, you can feel better knowing your towel is completely non toxic and harsh chemical-free.
*GOTS Certified (ONE-3389)
Global Organic Textile Standard certification means the product uses no chemical dyes or bleaches during cotton production.
*Proudly made in Europe:
Our products are ethically and responsibly made in our family run factory in Portugal, using state of art machinery and with higher than Fair Trade wages.
So what do you think of these beautiful kitchen towels made of 100% Organic Cotton from Delilah Home? Ae you like me and looking to live sustainably by reducing your overall carbon footprint? Are you simply looking for the best fo the best when it comes to bath towels, kitchen towels, bed sheets, and more? Look no further than Delilah Home as their products are made with 100% Organic Cotton which means they will last for years and years as organic cotton is much more durable than traditional cotton. It is like my mom always used to say to me… you get what you pay for and that is so true with these wonderful Kitchen Towels. They are fabulous and make the perfect gift for the Holiday Season! Check out all of the wonderful textiles that Delilah Home makes and check them out on social media too!
WEBSITE ~ FACEBOOK ~ TWITTER ~ INSTAGRAM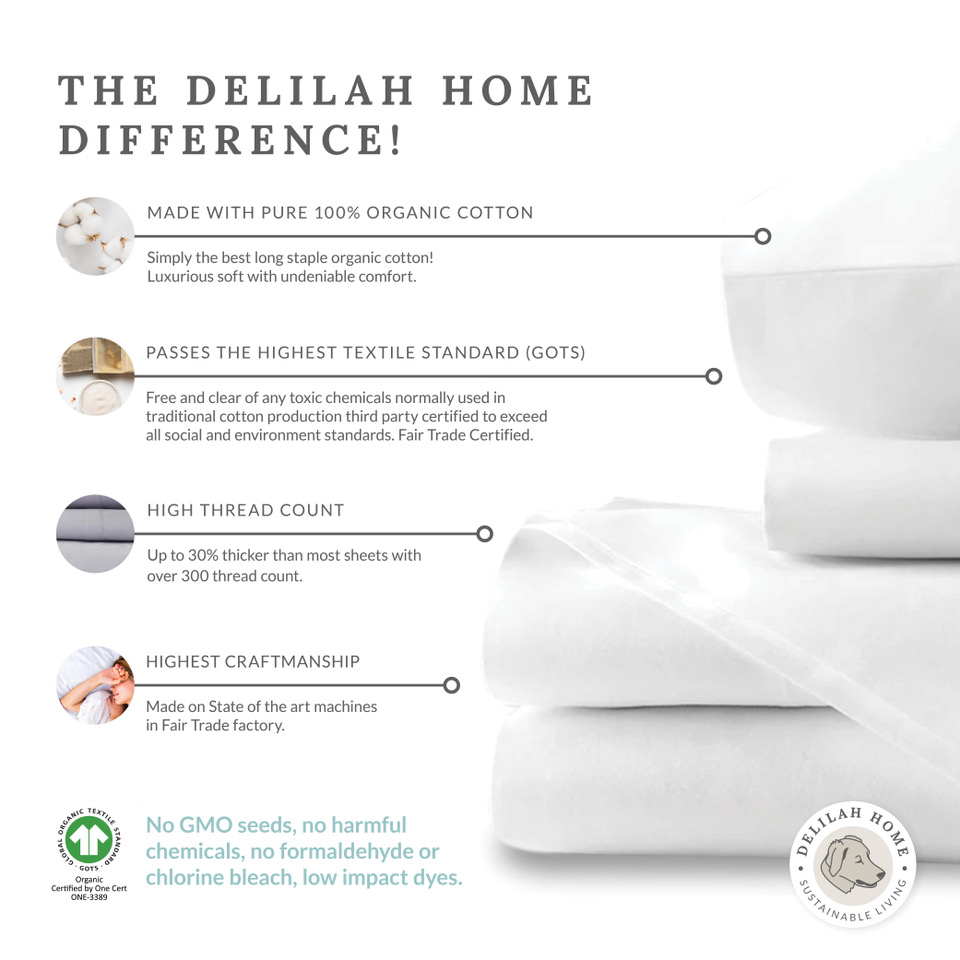 Deliciously Savvy received product and/or compensation in exchange for an honest and unbiased review and all opinions are 100% my own. This post contains affiliate links and I may make a small commission, at no cost to you, used to support this site if the product is purchased via the links in this post. Thank you for stopping by and enjoy!