Holly Clegg's S'Mores Cookies
S'Mores Cookies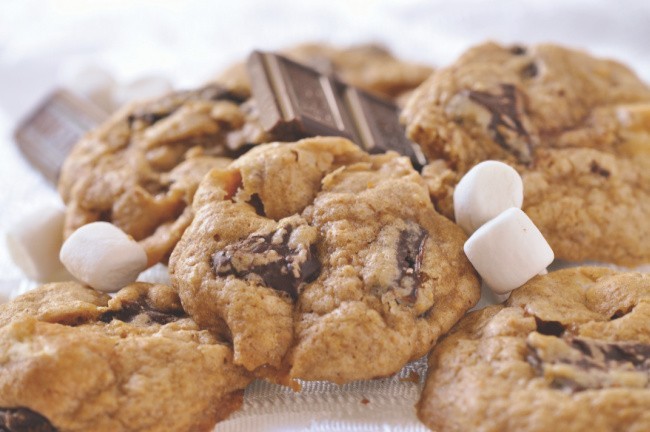 This camping favorite transforms into a melt-in-your-mouth s'mores cookie. This delicious recipe is from Holly Clegg's KITCHEN 101 Cookbook!
Preheat oven 350°F. Coat baking sheet with nonstick cooking spray.

In mixing bowl, beat butter and both sugars until light and fluffy.

Add eggs and vanilla mixing until combined.

In another bowl, combine flour, graham cracker crumbs, baking soda, and cinnamon. Gradually add flour mixture, mixing until well combined. Fold in marshmallows and chocolate pieces.

Drop by teaspoonful on prepared pan. Bake 8-10 minutes or until golden brown. Cool 10 minutes before removing from pan.
Nutritional information per serving:
Calories 65, Calories from Fat 33%, Fat 2g, Saturated Fat 1g, Cholesterol 11mg, Sodium 46mg, Carbohydrates 10g, Dietary Fiber 0g, Total Sugars 7g, Protein 1g, Dietary Exchanges:
1/2 other carbohydrate, 1/2 fat