Smoked Salmon "Scotch" Deviled Eggs with goat cheese and sour cream (from The Hotel Saugatuck)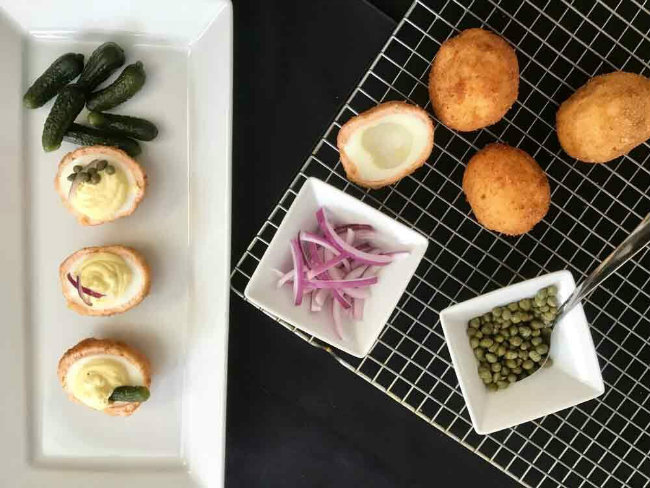 I have a fabulous recipe to share which is a perfect for National Deviled Egg Day on November 2nd! This is a fabulous and delicious recipe to try and just in time for National Deviled Egg Day. The Hotel Saugatuck in Saugatuck, Michigan, has a special recipe they're offering guests this November to mark the delicious holiday. Check it out for yourself today!

The Hotel Saugatuck is an 18-room luxury bed and breakfast with stunning views of Lake Kalamazoo, offering modern amenities, mere blocks from the vintage reminiscent small-town of Saugatuck, Michigan, and minutes from Douglas. Built in 1865, The Hotel Saugatuck, formerly the Twin Gables Inn, is the only original mill in the area still standing from the busy lumbering era. It is now comprised of a dozen rooms in the historic hotel and three duplex cottages, each with two guestrooms. All rooms feature king sized beds, private bathrooms, Jason Hydrotherapy Tubs with Micro-silk Technology, in-room breakfast, in-room dessert, fireplaces, and individual climate control. Privacy and individual attention define The Hotel Saugatuck experience. You must check them out.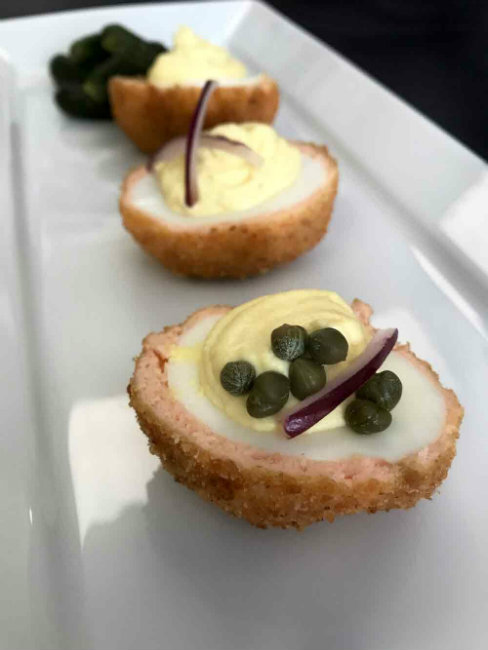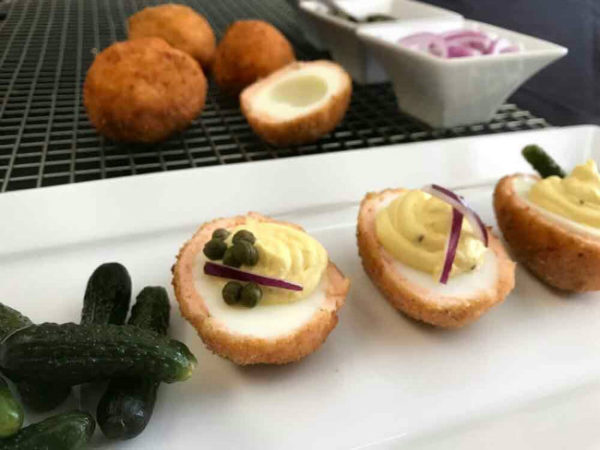 | | |
| --- | --- |
| | |
Heat cooking oil to 350 degrees in a heavy bottom pot or electric fryer.

Add smoked salmon to food processor. Chop until smooth.

Remove salmon from food processor and place between 2 layers of plastic wrap. Press (or use a rolling pin) salmon between wrap layers until a thin sheet of salmon is formed.

Portion salmon into 6 equal sections.

Using your hands, wrap 1 section around 1 hardboiled egg, making sure egg is fully covered.

Repeat with the other 5 eggs.

Whisk raw eggs in a bowl.

Pour bread crumbs in a separate bowl.

Dredge salmon covered eggs in whisked egg mixture and coat in bread crumbs.

Lower eggs into fryer & Fry for approximately 1 minute or until golden brown.

Remove from fryer and let cool.
Once cooled, slice eggs lengthwise and remove yolks.

Blend yolks, sour cream and goat cheese until smooth. Add salt and pepper to taste.

Using a pastry bag (or Ziploc bag), pipe yolk mixture into eggs.
Top eggs with a combination of cornichons, red onion and capers.