Savory Asian Salmon and Rice Pita Salad Pockets #SalmonLovesRice
Savory Asian Salmon and Rice Pita Salad Pockets #SalmonLovesRice #ad
This is a sponsored post written by me on behalf of Minute® Ready to Serve Rice.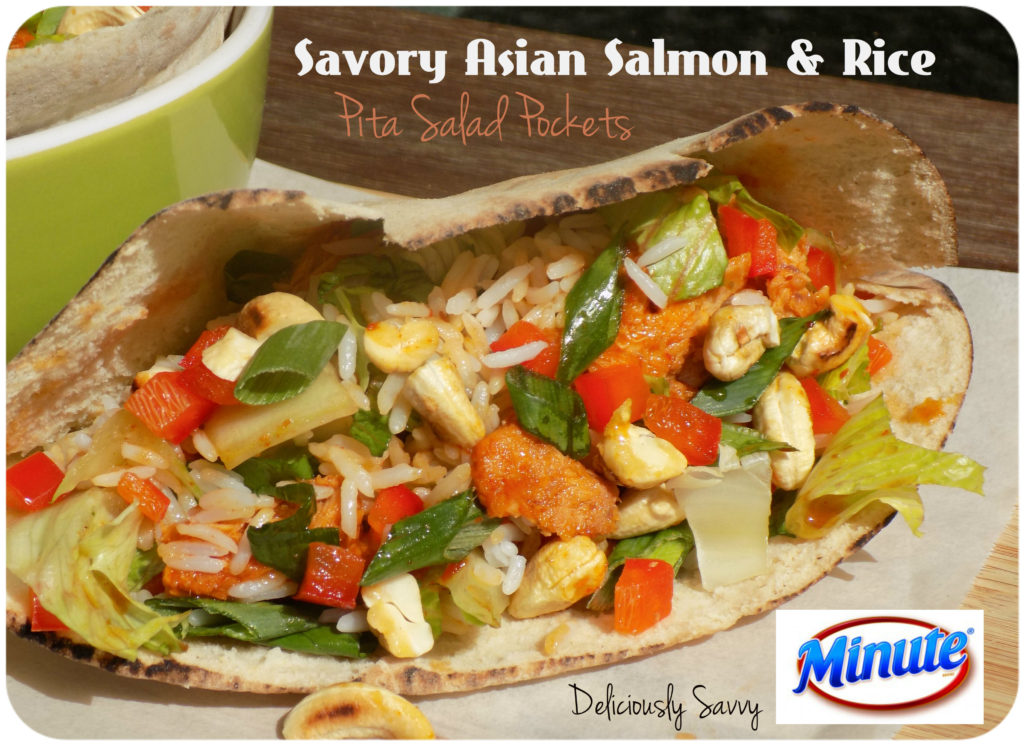 It is no secret that I love to cook for my family and to share those yummy recipes with my amazing readers. Lately, I have been trying to come up with quick and delicious, wholesome meals for my family, that are simple to make but that are amazingly delicious. Let's face it, we are all crazy busy working full time, taking care of the kids and pets, helping out with homework and projects and whatever else we can add to the mix. That leaves us with no time, not to mention tired and the end result is someone running to the nearest drive through to grab a "not so healthy" and quick bite to eat. In comes Minute® Ready to Serve Rice and Chicken of the Sea Flavored Salmon Pouches. I am going to show you how these two items plus a few simple and nutritious additional ingredients that you probably have in your pantry and fridge, can make a delicious lunch or snack any day of the week! I love that these two items are tasty, convenient and portable so that you can enjoy a delicious and wholesome lunch pretty much anywhere…. on the go or at home. I also love that they are packaged to provide the perfect portion size to provide a nutritious and satisfying lunch.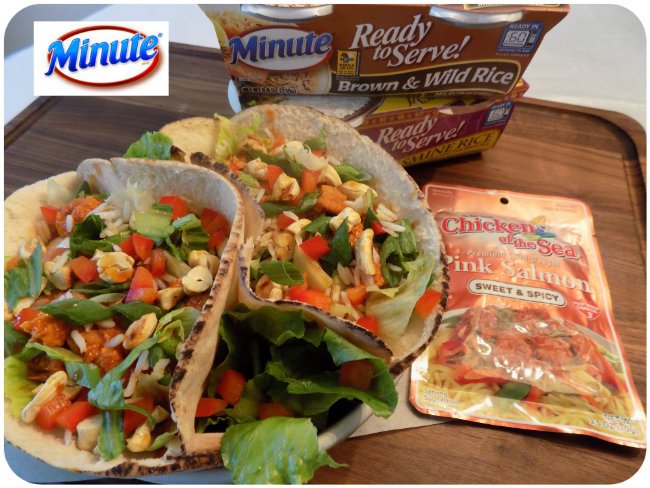 Minute® Ready to Serve Rice is a great option for portable lunch and snack solutions because these amazing little cups of wholesome rice are ready in just 60 seconds via the microwave. There are so many amazing varieties available such as Brown Rice & Quinoa, Basmati Rice, as well as Whole Grain options including Brown Rice, Brown & Wild Rice and Multi-Grain Medley. I also love the Jasmine Rice and White Rice varieties as well, which happen to be my daughters favorites. There is definitely a variety for everyone in your household because of the amazing selection of varieties available. The same is true for the Chicken of the Sea Salmon pouches. They are available in several flavors such as Lemon Pepper, Barbecue, Sriracha and my favorite choice… Sweet & Spicy. I love that Chicken of the Sea is on a mission to encourage Americans to eat more seafood, especially salmon because of its high nutritional content and I have always loved Salmon. It is my favorite fish for sure.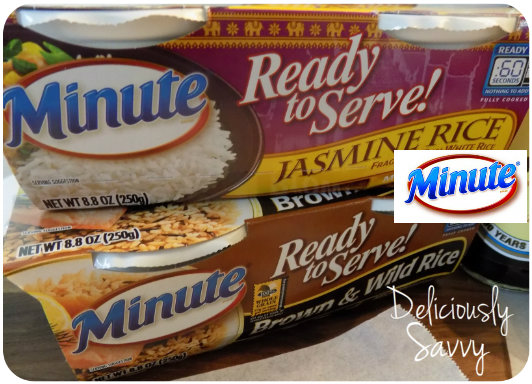 Did you know that Oct. 8, 2016 is National Salmon Day?
Well, that is why Chicken of the Sea and Minute Ready to Serve Rice have partnered together to make meal-planning easy PLUS I have to tell you about the "Salmon Loves Rice Sweepstakes". The dates are September 25- October 8 and all you have to do is use the hashtag #NationalSalmonDay on your social media platforms to answer salmon trivia questions for a chance to win a 7-10-day Alaskan cruise as well as Chicken of the Sea Flavored Salmon Pouches and Minute® Ready to Serve Rice products! And if you are looking for great recipe ideas….make sure you mark your calendars for September 27th @ 11am EST for a Twitter party showcasing some fun ways to pair Minute Ready to Serve Rice with Chicken of the Sea Flavored Pouches as well.
And Now The Recipe ~ Savory Asian Salmon and Rice Pita Salad Pockets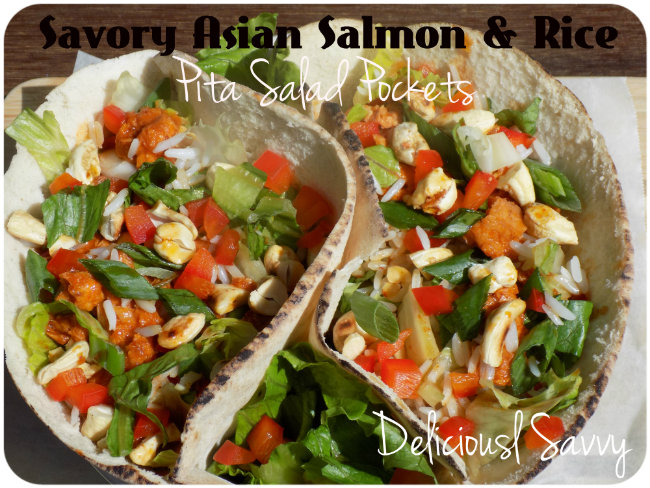 This is delicious and nutritious and a snap to throw together! Enjoy!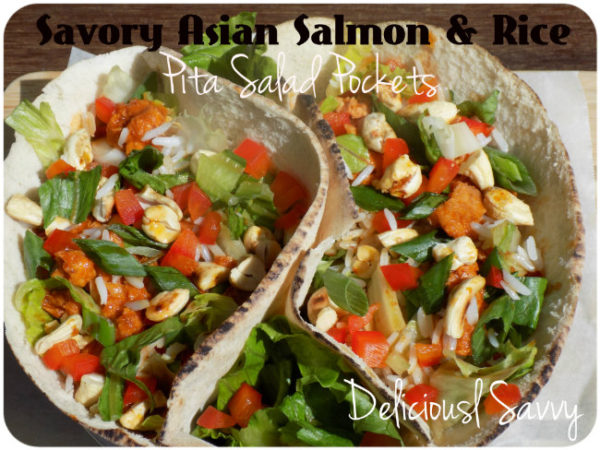 Sweet Chili Sauce Ingredients
| | |
| --- | --- |
| Sweet Chili Sauce Ingredients | |
Cook the Minute Ready to Serve Jasmine Rice according to directions. Set aside.

Mix the 3 ingredients for the sauce and give a good whisking action to create a delicious Sweet Chili Sauce that complements the Pita perfectly. Add more honey until the sauce is to your liking. Set aside.

Now start filling your pita. I layered mine....Romaine Lettuce, Red peppers, rice, salmon, drizzle with a little of the Sweet Chili sauce, then add a little more lettuce, red peppers, rice salmon and top with green onions and toasted cashews. Drizzle a little more of the Sweet Chili sauce on top and enjoy!
See how quick and easy that was? Change it up to suit your tastes adding whatever veggies you would like but the end result is a wholesome and delicious lunch, snack or dinner! Enjoy!
This is a sponsored post written by me on behalf of Minute® Ready to Serve Rice.
As Always, Thank You For Visiting Deliciously Savvy and Leave Some Comment Love Today!
Save
Save
Save
Save
Save
Save
Save
Save
Save
Save