Holly Clegg's Sweet Potato Casserole with Praline Topping
Sweet Potato Casserole with Praline Topping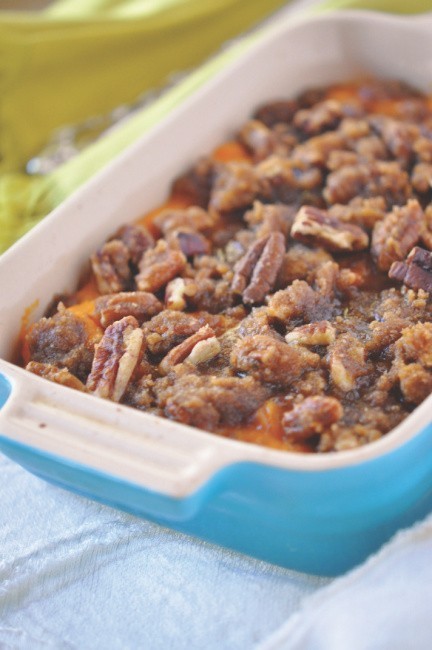 Volunteer to bring this simple and fabulous sweet potato dish for your next holiday meal. Don't save for only the holidays — eat all year round! Yet… another delicious recipe from Holly Clegg's KITCHEN 101 Cookbook.
Preheat oven 350°F. Coat 2-quart casserole with nonstick cooking spray.

In bowl, cream together all ingredients except the topping with potato masher or mixer until blended. Transfer to prepared dish and sprinkle with Praline Topping (see recipe).

Bake 40-45 minutes or until thoroughly heated and topping is brown and crumbly.
Praline Topping Instructions
In bowl, mix together brown sugar, flour, and cinnamon. Stir in butter, vanilla, and pecans until crumbly.
Nutritional info per serving:
Calories 274, Calories from Fat 34%, Fat 11g, Saturated Fat 3g, Cholesterol 12mg, Sodium 87mg, Carbohydrates 42g, Dietary Fiber 3g, Total Sugars 28g, Protein 4g, Dietary Exchanges:  1 starch, 2 other carbohydrate, 2 fat
Terrific Tip:  Canned (drained) or fresh sweet potatoes may be used for this recipe.