Holly Clegg's Chicken Schwarma
Chicken Schwarma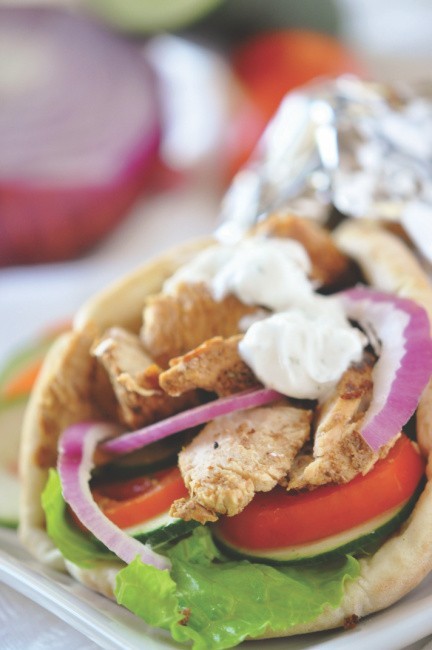 This is another amazing recipe from Holly Clegg's KITCHEN 101 Cookbook.
In shallow dish or large plastic bag, combine yogurt, lemon juice, garlic, oregano, cumin, cinnamon and cloves, if desired, mixing well. Add chicken to marinade, coat well, and refrigerate 4-24 hours, time permitted.

In large nonstick skillet, cook chicken or grill until done, about 15-20 minutes, turning halfway through. When done, thinly slice.

To make pitas, spread Yogurt Sauce (see recipe) on pita, top with chicken, cucumber, tomatoes, onion and lettuce. Roll sandwich closed (wrap sandwich in foil to help stay closed).
Yogurt Sauce Instructions
In small bowl, mix together all ingredients. Refrigerate.
Nutritional info per serving:
Calories 376, Calories from Fat 14%, Fat 6g, Saturated Fat 1g, Cholesterol 97mg, Sodium 513mg, Carbohydrates 40g, Dietary Fiber 6g, Total Sugars 5g, Protein 42g, Dietary Exchanges:  2 1/2 starch, 1 vegetable, 4 1/2 lean meat