Holly Clegg's Beef & Broccoli Stir-Fry
Beef and Broccoli Stir-Fry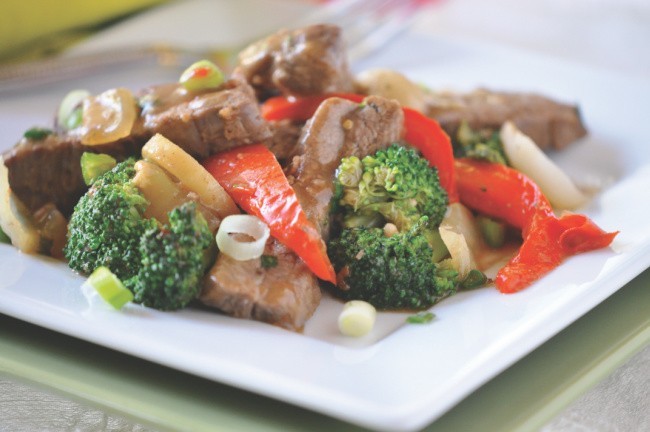 No need for Chinese take-out when you can whip up this quick and tasty stir-fry. Serve with rice. This is another delicious and healthy recipe from Holly Clegg's KITCHEN 101 Cookbook!
In glass dish or plastic bag, combine soy sauce, honey, ginger, garlic, 1 tablespoon cornstarch and 2 tablespoons chicken broth. Add sliced meat and marinate in refrigerator, covered, 1 hour, time permitting.

In large shallow skillet coated with nonstick cooking spray, stir-fry meat few minutes until browned. Add onion, broccoli, and pepper cooking over medium-high heat 5-7 minutes or until tender.

In small bowl mix together remaining 1 cup chicken broth and 1 tablespoon cornstarch. Add to skillet; bring to boil, stirring, until mixture slightly thickens and meat done.

Stir in green onions and water chestnuts.

Serve on top of white or brown rice! Enjoy 🙂
Nutritional info per serving:
Calories 272, Calories from Fat 23%, Fat 7g, Saturated Fat 3g, Cholesterol 48mg, Sodium 540mg, Carbohydrates 25g, Dietary Fiber 6g, Total Sugars 11g, Protein 28g, Dietary Exchanges:  3 vegetable, 1/2 other carbohydrate, 3 lean meat
Terrific Tip:  The best cuts of beef for stir-frying are flank steak and sirloin, which are more tender and full-flavored.
To make slicing beef into strips easier, freeze uncooked meat 15-30 minutes. To easily cut meat, use kitchen scissors.