Deliciously Scrambled Cheesey Eggs Recipe ~ Perfect For Sunday Brunch Or Anytime @freerangenellie @cabotcheese
Deliciously Scrambled Cheesey Eggs Recipe ~ Perfect For Sunday Brunch Or Anytime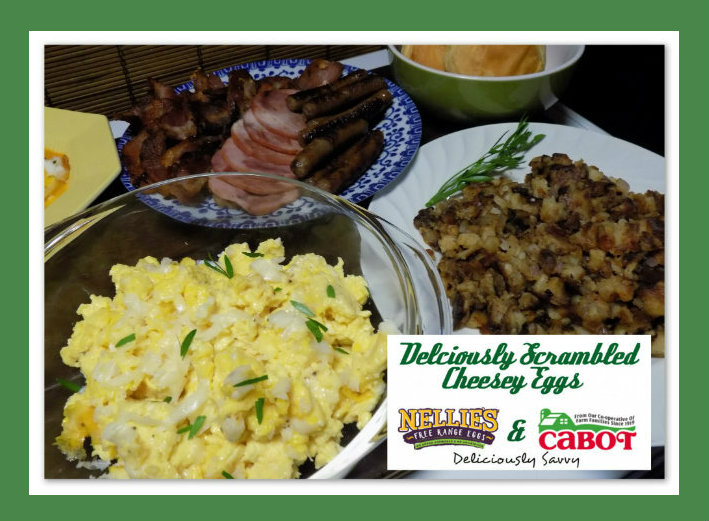 Deliciously Savvy received products in exchange for an honest and unbiased review and all opinions are 100% my own. Regardless, I only review products that I am truly interested in for myself and my family and of course for sharing those reviews with my Savvy Readers! Enjoy!
Back to school is upon us and with that my family and I are trying to create as many special family memories as we can. Whether it be a few amazing "lazy days" laying out and hanging in the sun while visiting the beautiful beaches of Long Island…or some "energizing visits" to the local state parks for some hiking and or paddle boarding… and possibly even getting together with friends and family to enjoy those fabulous final summer weekends sharing delicious food with those we care about most. Nothing is better than having the special people in our lives over for a delicious Brunch Spread in my opinion. I have fond memories of my Grandmother creating amazing breakfast spreads for us all to enjoy when we would visit in the summer. Because of that amazing lady, I love to host a huge brunch for my friends and family. The best ingredients are a must…. and that is where Nellie's Free Range Eggs and Cabot Cheese comes in! And in case you didn't know, both Nellie's Free Range Eggs and Cabot Creamery Co-operative are B Corporations, meaning they meet the highest standards of verified social and environmental performance. That is HUGE for me and my family.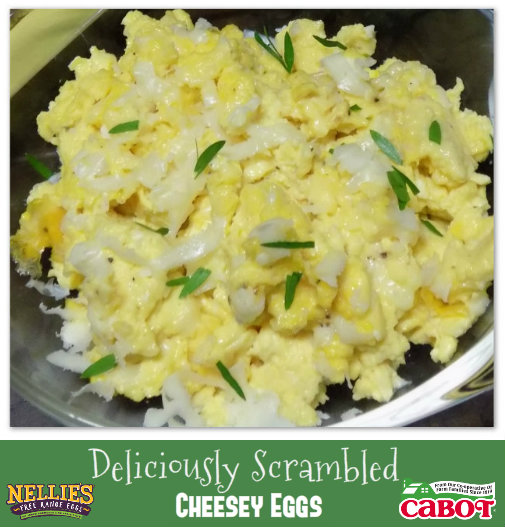 I decided to make my family favorite recipe…. Deliciously Scrambled Cheesey Eggs using only the best ingredients! This is the must have centerpiece to your breakfast spread. Everyone just loves eggs and this recipe is seriously delicious! Check out my recipe below…. but in the meantime understand that the spread was amazing. In addition to this delicious scrambled egg recipe…. we had buttery biscuits, buttered toast (white and wheat bread), crispy bacon, breakfast sausage, breakfast ham, deliciously cooked hashbrowns, fried eggs (cooked in adorable egg molds) and Cinnamon rolls for those with a sweet tooth.
 It was a hit! Everyone loved it just like I knew they would!
Check Out My Deliciously Scrambled Cheesey Eggs Recipe Below
PLUS Scroll Below To Enter To Win 2 Free Nellie's Product Coupons and 2 Free Cabot Product Coupons So That You Can Create Your Own Perfect Brunch Recipe!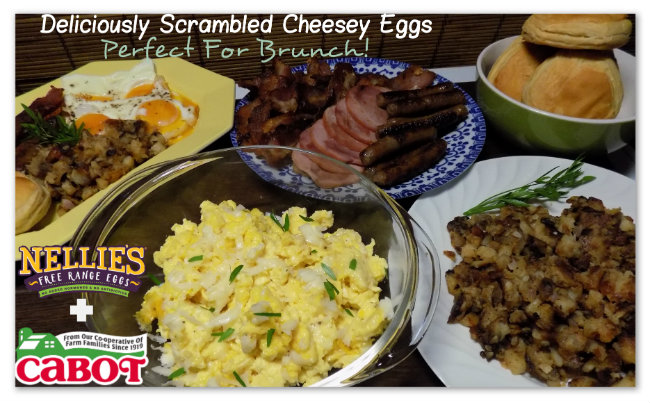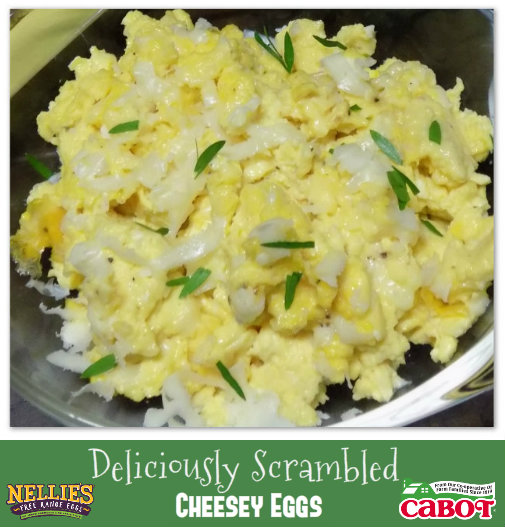 | | |
| --- | --- |
| | |
In a large nonstick pan, melt the butter over medium-low heat, being careful to not brown the butter. Your butter should not bubble.... if it does.... you heat is too high. Lower it and start again for perfectly cooked low and slow eggs. That is the key to scrambled egg perfection.

Meanwhile, in a large bowl, add the eggs and 1 teaspoon cold water. Vigorously whisk until frothy and smooth. Also....Make sure the butter is coating the entire pan including the sides..... swirl it to ensure proper coverage.

Pour the egg mixture into the pan and let sit for a few seconds. When the eggs begin to set on the bottom, use the whisk to gently move the eggs. Then allow them to sit for just a few seconds between whisking them again.

Curds will begin to form and increase throughout the entire cooking time. Repeat this process, whisking when needed and then resting the eggs for a few seconds until about 50 percent of the eggs are set and the rest are still wet.

At this point, season your scrambled eggs with a pinch of salt and pepper and then continue to whisk and "leave alone" alternately.

Once your eggs are set at almost done add the cheese and from here on out just whisk until eggs are cooked through.

This entire process from pouring in the eggs to them being finished should take around 10 minutes..... be patient and the results will be delicious. 8 to 12 minutes tops. Serve warm. Sprinkle with fresh parsley for a bit of color and added delicious flavor.
Add with all of your Brunch favorites! Make delicious homemade buttermilk biscuits and make a delicious sausage gravy.... or you can create Eggs Benedict. Whatever you choose.... Nellie's and Cabot will provide the most delicious results.
~~~~~~~~~~~~~
And Now To The Best Part…….The Giveaway!
Sponsored By: Nellie's & Cabot Cheese
Co-Hosted By:
1 Lucky Winner will receive 2 Free Nellie's Product Coupons and 2 Free Cabot Product Coupons!

Any Questions Email Me At mcushing7 (at) hotmail (dot) com.
This giveaway is in no way endorsed, affiliated or associated with Facebook,
Twitter or any other Social Media Networking Site. This giveaway is valid only
in the United States. Entrants must be 18+ years of age to enter.
This giveaway will end at 11:59PM (EST) on 09/13/2017.
As Always, Thanks For Visiting Deliciously Savvy Today & Leave Some Comment Love While You Are Here! What Do You Love For Brunch? What Would You Make With This Delicious Combo Of Nellie's Free Range Eggs & Cabot Cheese? Tell Us All About It!