Delicious & Rustic Pizza 2 Ways ~ Sausage, Pepper & Onion Pizza & Fresh Margherita Pizza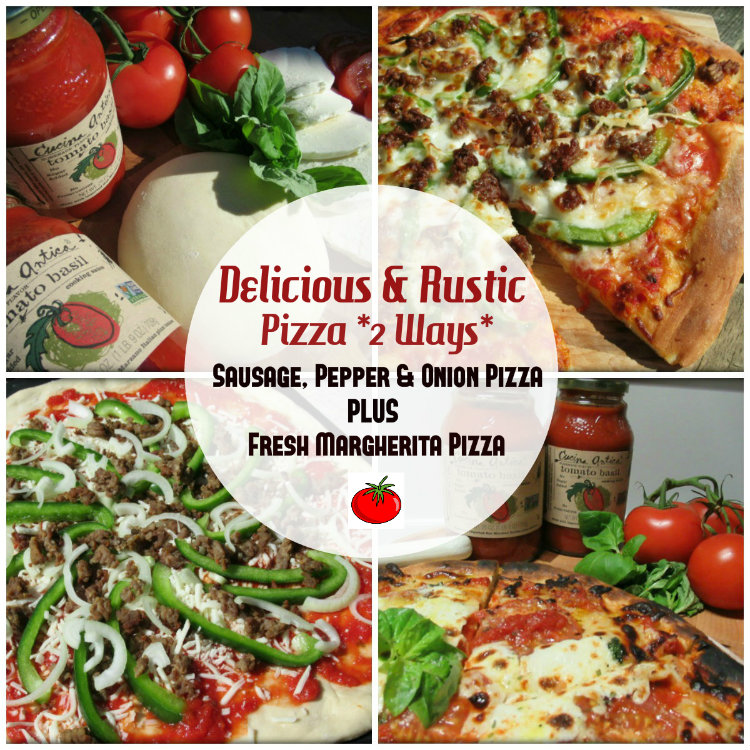 It is no secret to anyone that knows me that I love to cook and have since I was really young. I think that love all stems from my regular visits to my Grandparents house in Georgia, right outside of Atlanta as I was always so excited to go and visit as much as possible. They lived in the country on a Lake and their property was just so magical. Tons of woods, gravel roads, the lake and streams….. I just loved it. Then add to that the fact that my Grandmother was the like the best…. cook…. ever……. and it was always my favorite place to visit. My Grandmothers food was all that I could think about sometimes on the drive there as I imagined her big breakfast feasts with homemade buttermilk biscuits, sausage gravy, perfectly scrambled eggs, bacon, sausage, grits….. and I can keep going. You get the point. Her southern cooking style was my absolute favorite thing on the planet and everything from breakfast, to lunch, dinner and even desserts, was the best. She never made anything that wasn't just amazingly delicious and the best thing I had ever eaten….oh and did I mention everything was homemade? Yeah…. Everything. I always wanted to cook like her…. and to be able to share that love of food to everyone that I cooked for. Over the years I have had lots of practice and have finally gotten pretty good at replicating some of my favorite recipes of hers… plus I have added my own twist to a few. One of my favorite dinners when we visited every time was my Grandmother's pizza.

My grandmother was southern…. but she could make delicious pizzas. She made the dough homemade and she would make a few varieties so that there was something for everyone. This got me to thinking that it has really been a long time since I made pizzas for my family. I mean a really long time. Sure you can order a pizza…. but homemade is just the best, especially when using the best ingredients and even having a bit of fun with the  toppings and varieties. You can really customize and make it all your own. I chose to use the Cucina Antica Tomato Basil cooking sauce for my pizzas and we took a vote and chose our two favorite pizza recipes…. Rustic Sausage, Pepper & Onion Pizza and a Fresh Margherita Pizza.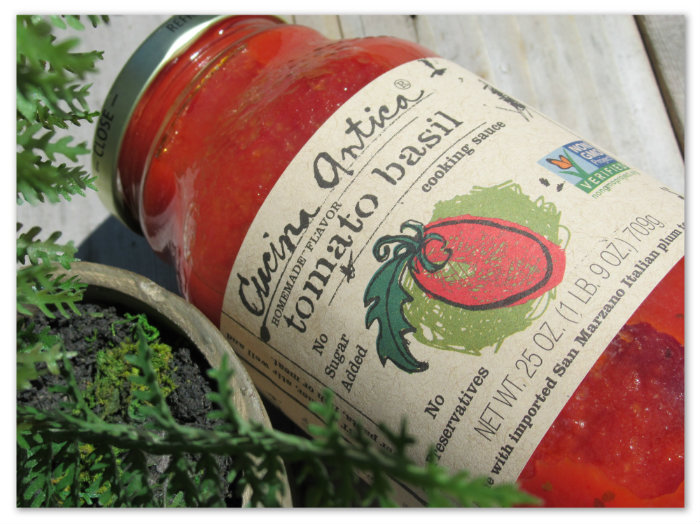 I am so excited to share with everyone that I have become a brand ambassador for Cucina Antica, a company that has created cooking sauces, pasta sauces, salad dressings and condiments that are Non-GMO verified, gluten-free, free of sugar and preservatives. I love that each and every jar is made with imported San Marzano Italian Plum Tomatoes which are known to be the best to chefs and home cooks alike. I also love that they create cooking sauces created with an artisanal method that leaves room for the home chef to truly create meals without the worry of their sauces becoming acidic from over-cooking.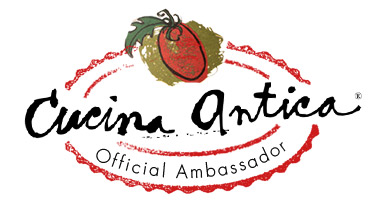 So you may be wondering what do I mean by pizza *2 ways*…. and it is basically that I am making 2 types of pizza and I am cooking the crusts differently for each. I decided to use a plain uncooked dough surface…. just like my grandmother used to do when she made pizzas…. for my Sausage, pepper and Onion Pizza. This one will be cooked completely in the oven and will be created by starting off with a delicious base of Tomato Basil Cooking Sauce and then all of my desired toppings such as crumbly Italian sausage, thinly sliced peppers and onions and lots of shredded mozzarella cheese. I love using a bottled sauce that is premium and delicious and that contains no added sugars because in all honesty it is really hard to find a sauce without all of the unneeded ingredients that my family and I are trying to avoid.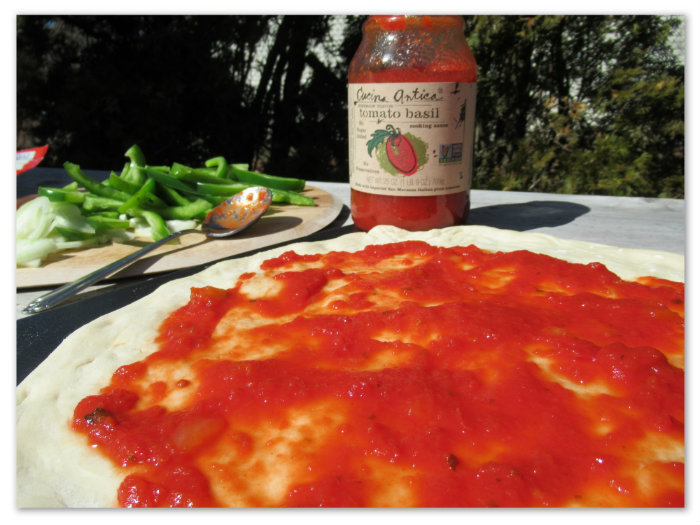 This is a delicious pizza creation that is a spin off of an Italian family favorite on my husbands side. Tasty Sausage, Pepper and Onions. This is definitely a delicious pizza that provides amazing flavor combinations that meld together starting with a hearty base of Cucina Antica Tomato Basil Cooking Sauce to create the most delicious pizza creation ever. This is a new family favorite for sure.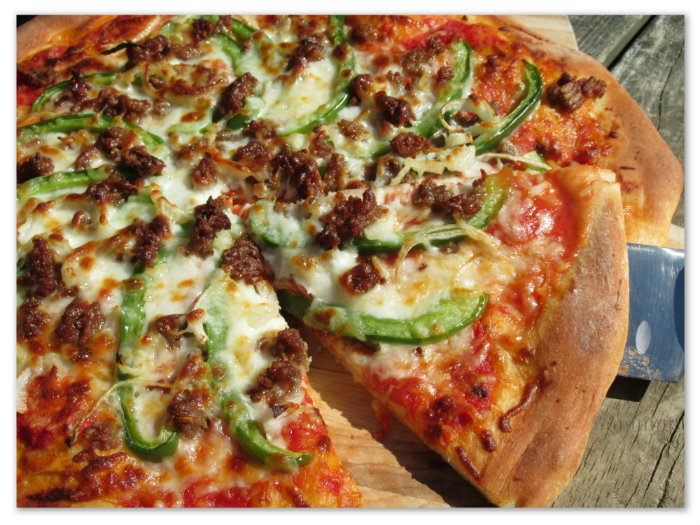 I also made a family favorite…. Fresh Margherita Pizza. I decided to try a new method of cooking the crust for this pizza as I have been wanting to use my new outdoor griddle. You can also use a grill for this method, but basically I precooked the pizza dough on my outdoor griddle and then added a hearty base of cooking sauce, layered with all of my toppings and baked quickly in the oven for 5 minutes or so to melt all of the toppings. The results were delicious and you can see the char from this method of cooking. Loved it.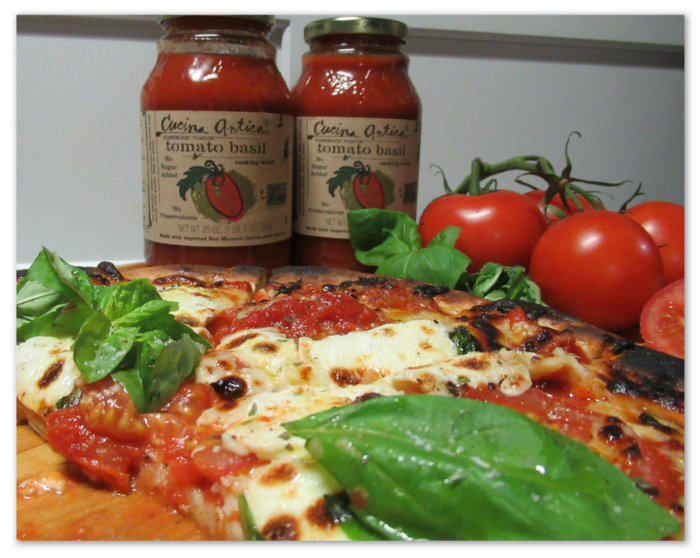 Want to find out more about Cucina Antica? Check them out today and learn how Chef Neil makes the products through an artisanal production method that allows consumers to cook the sauces without losing any flavor.

Not sure where to find Cucina Antica? Find Them Here.

Recipe

1: Rustic Sausage, Pepper & Onion Pizza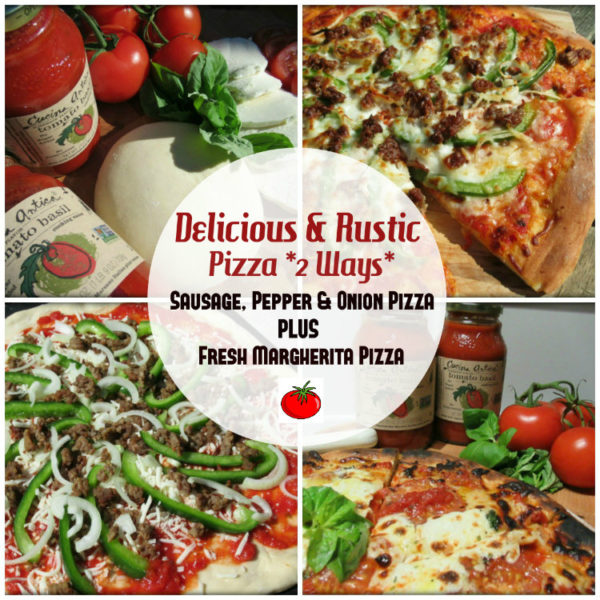 | | |
| --- | --- |
| | |
Preheat Oven to 375 Degrees this way it is ready to go once you have built your pizza masterpiece.

Brown the Sweet Italian sausage in a pan. I used a ground sausage so that it would be small crumbles as I prefer it that way. Feel free to brown links and slice thinly to add if you prefer your Italian sausage sliced. Both ways are equally delicious. Once browned, drain on a paper towel and set aside.

Now you will want to spread the pizza dough out onto a baking sheet into a nice sized circle....

Spread the Cucina Antica Basil Cooking Sauce evenly onto the pizza dough leaving a little room for a crispy edge. Use more if you like a saucy pizza.

Spread a bit of mozzarella to cover the sauce.

Sprinkle as much of the browned sausage that you want onto the pizza.

Now add the thinly sliced peppers and onions. as much as you would like.

Now sprinkle the remaining mozzarella cheese on top and you can even add a bit of grated Parmesan Cheese to the top.

Now pop your pizza on your baking sheet into the oven for 15 to 18 minutes. I check regularly after 15 minutes because the cooking time really depends on the amount of toppings that you have added to your pizza. You may like a softer crust.... or a crispier crust which requires a bit more cooking time. Just keep an eye on it after 15 minutes to see where you are at in the cooking process and you can remove or add extra cooking time.

Now once you have pulled your pizza from the oven.... drizzle with a bit of EVOO ands sprinkle with some fresh grated Parmesan cheese and even some Oregano! The oregano brings out a delicious flavor in your melty cheeses.... so give it a try. YUM!

Recipe

2: Fresh 

Margherita Pizza



Deliciously Savvy received product to facilitate this recipe and I hope you enjoy. This post contains affiliate links and I may make a small commission used to support this blog if product is ordered via the links in this post.