Change The Meat Your Family Eats With Applegate Natural & Organic Deli Meats PLUS A Recipe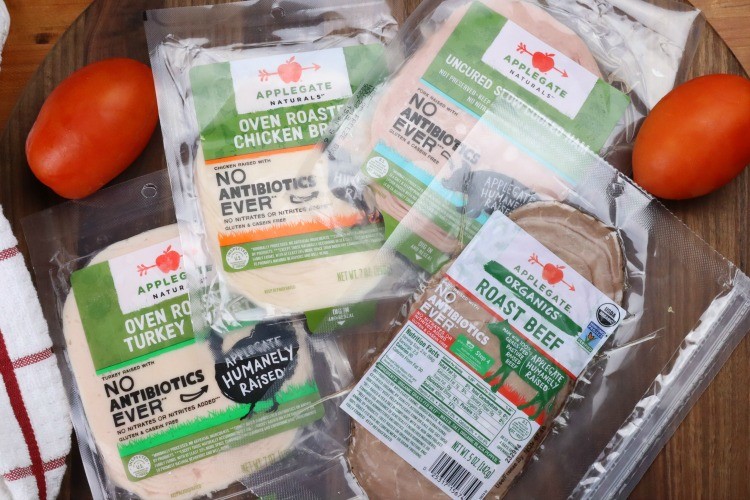 Deliciously Savvy received product in exchange for an honest and unbiased review and all opinions are 100% my own. Thanks for stopping by and enjoy!
With fall here and the kiddos back in school, I am always looking for new delicious and healthy ways to serve my kids and my husband a yummy lunch and even sometimes a quick weeknight meal. This is why I had to share Applegate Natural & Organic Deli Meats with everyone that I know as they are not only delicious but also a better for you version of your favorite deli meats. Applegate products are made without GMO ingredients, chemical nitrites, nitrates or phosphates and with no antibiotics ever PLUS I love that they source from farms where animals are treated with care and respect and that are pasture raised.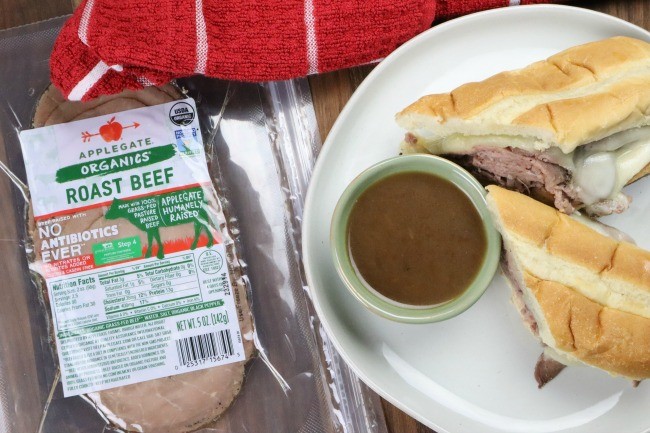 I recently picked up four delicious varieties of my families favorite deli meats from Applegate. I picked up Applegate Organics Roast Beef, Applegate Naturals Oven Roasted Chicken Breast, Applegate Naturals Oven Roasted Turkey Breast & Applegate Naturals Uncured Slow Cooked Ham. 
Let's take a look at the four delicious varieties of my families favorite Applegate Deli Meats PLUS Check out my recipe for Yummy & Easy French Dip Sandwiches using Applegate Organics Roast Beef! A quick and easy meal for a busy weeknight that the whole family loves!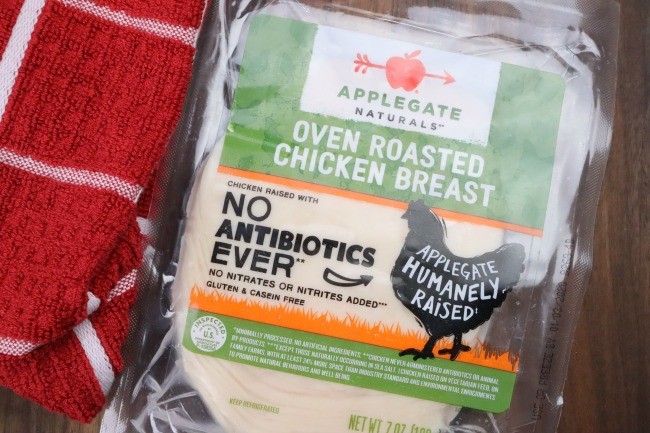 Super delicious and Applegate Naturals Oven Roasted Checken Breast makes the most incredible chicken sandwich! No GMO's, No antibiotics and Humanely Raised as are all Applegate products.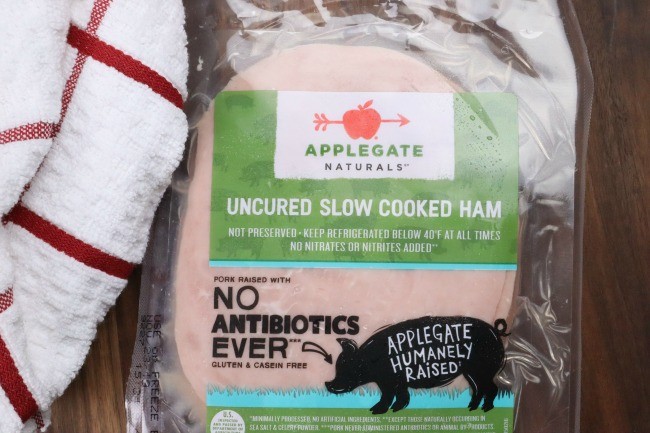 Applegate Uncured Slow Cooked Ham is for sure a slow cooked classic that everyone will love. Makes a super yummy grilled ham & cheese and there are no preservatives & antibiotics.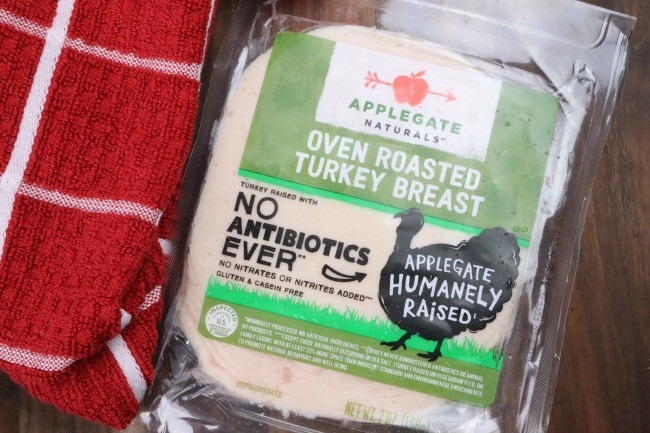 Applegate Naturals Oven Roasted Turkey Breast is perfection for adding to your favorite salad, sandwich or wrap and my kids love this one. Casein Free, Gluten Free, Sugar Free, No Nitrates or Nitrites, no antibiotics and always humanely raised.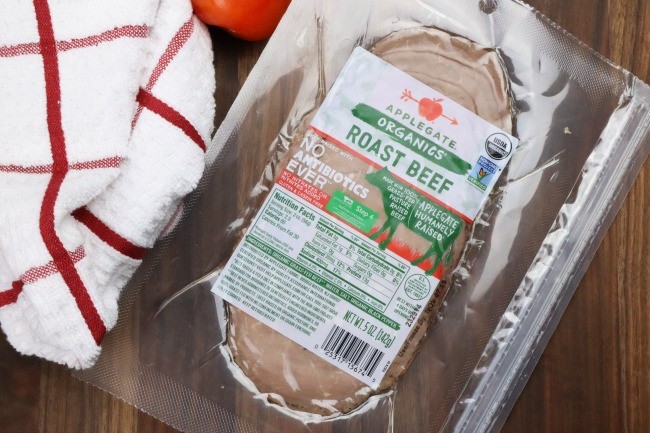 OK, this one is my absolute favorite Applegate Deli Meat for sure….Applegate Organics Roast Beef. Applegate uses only 100% Grass-fed beef that is beautifully marbled and gently seasoned with salt and pepper before roasting and it is just perfect for a delicious Roast Beef sandwich, wrap or added to a salad. Check out my recipe below for Yummy & Easy French Dip Sandwiches!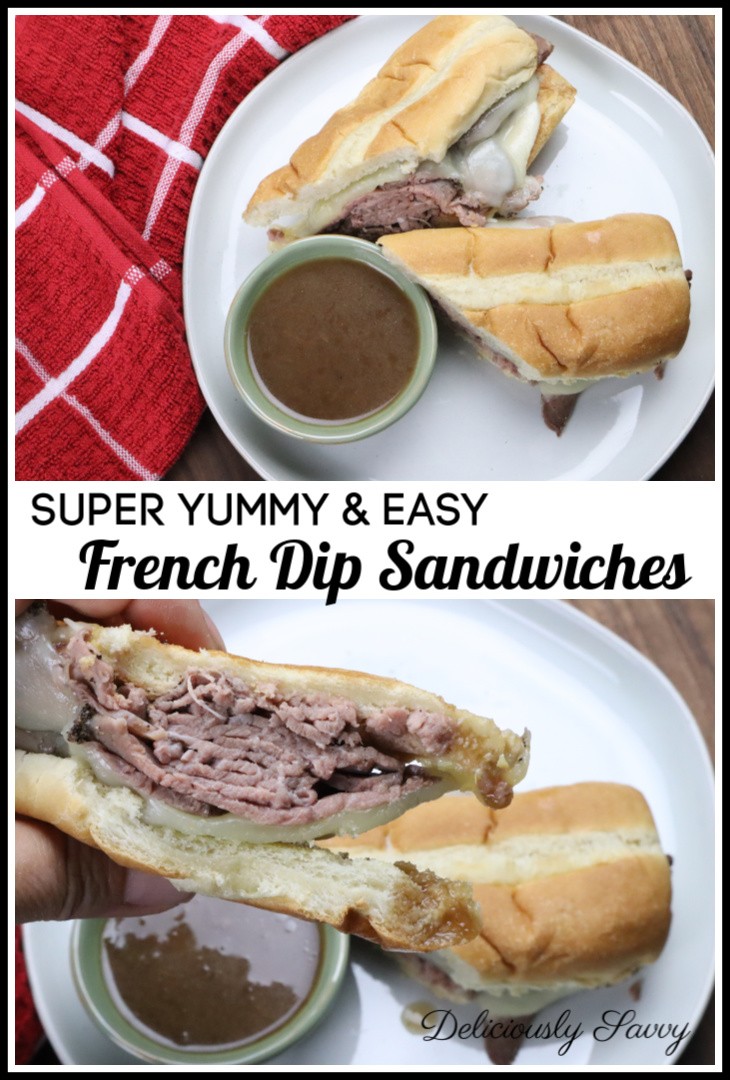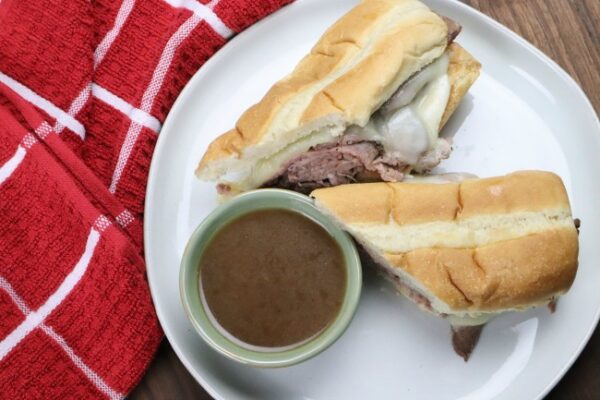 | | |
| --- | --- |
| | |
Preheat Oven to 350 degrees.

Stir together the butter and garlic powder.

Slice Hoagie Rolls in half lengthwise to prep them for toasting. Brush each piece of hoagie with a bit of garlic butter & then place in oven to toast for 4 minutes or so. Keep an eye on them as you are just looking for a quick toasting around the edges.

While hoagies are toasting, heat the french onion soup in a small saucepan and add 1 tablespoon of Worcestershire Sauce & minced garlic. Simmer and stir for 10 minutes.

Now take the toasted hoagies out of the oven and pile on the roast beef on one side of each hoagie. Top with 2 slices of Provolone Cheese and place back into the oven until cheese melts through.

Take the hoagies out of the oven and add the toasted top half of the hoagies to your sandwich and slice in half on a diagonal. Serve some of the delicious broth for dipping! That is it!
Add anything you want... some carmelized onions and even a yummy horseradish sauce it a great addition to kick this recipe up a notch. Super yummy and really quick and easy! Enjoy!
So what do you think of Applegate Natural & Organic Deli Meats? They're truly the perfect fix for the busy lifestyles that we all live today and they are a delicious and "better for you" way to serve your family delicious sandwiches, wraps and more. I love that Applegate has been using HPP to process their ready-to-eat foods like packaged sliced deli meats, since March 2011. Applegate uses HPP because it makes for better taste, texture and nutrition. Learn more below and make sure you visit Applegate online and check them out on Social Media PLUS continue reading to learn how you can enter to win 7 Applegate deli meat packs & One $50 Amazon card!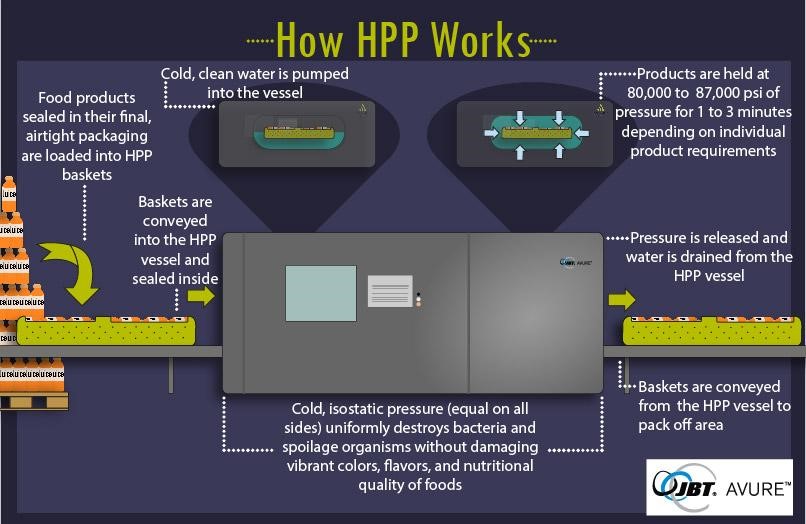 About HPP
HPP: WHAT IS IT?
HPP is cold pasteurization in pure water; it uses ultra-high pressure purified water to keep food and beverages pathogen-free and to stay fresh longer. Food and beverages are subjected 87,000 lbs. of pressure per sq. inch –– the same amount of pressure as six times the deepest part of the ocean. At this very high pressure pathogens are destroyed, but food's taste, texture and nutritional value is preserved.
About Avure /JBT Technologies
JBT/Avure is a leading global maker of HPP machines. JBT/Avure's HPP food processing machines offer the highest output, lowest operating costs, and greatest reliability for food producers and manufacturers. JBT/Avure helps producers increase food safety and extend shelf life while providing consumers with nutritious, natural, flavorful food. More information is available at https://www.avure-hpp-foods.com/ • Avure Facebook @AvureHPP or Twitter @AvureHPP.