Celebrate Deliciously With Litehouse Homestyle Ranch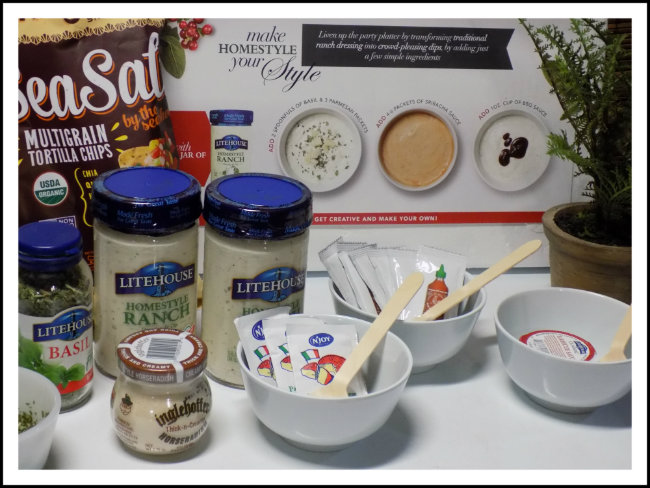 This review was made possible by iConnect Influencer Management, and Litehouse was compensated for my participation in this campaign, but all opinions are 100% mine.
It is no secret that I love hosting parties for my family and friends and providing delicious snacks for the occasion is a must. Litehouse Homestyle Ranch is the perfect starter for your spread. You can transform traditional ranch into a delicious masterpiece perfect for dipping just about anything, by simply adding a few simple ingredients. Litehouse Homestyle Ranch Dressing is the perfect starter for mixing just about anything that you can think of such as sriracha and even bacon and cheddar cheese to create dips that pair perfectly with veggies, crackers, cheese, chicken tenders and more. I love that no matter how you use it… Litehouse Homestyle Ranch is sure to please everyone on your get together list!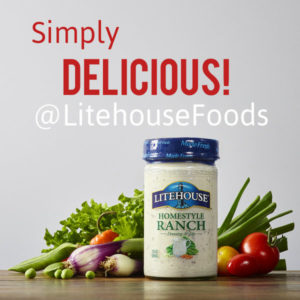 WEBSITE ~ FACEBOOK ~ TWITTER ~ INSTAGRAM
I created my own delicious recipe using Litehouse Homestyle Ranch dressing and you will find it below… but here are 3 more delicious dip recipes that can be created using Litehouse Homestyle Ranch and a few simple ingredients that you probably already have on hand. They are seriously fabulous with a nice tray of fresh cut veggies, crackers, cheese, and even chicken nuggets or tenders! Really anything you would like! You can also snag Litehouse Coupons so that you can create your own delicious dip party bar for your next get together or gathering.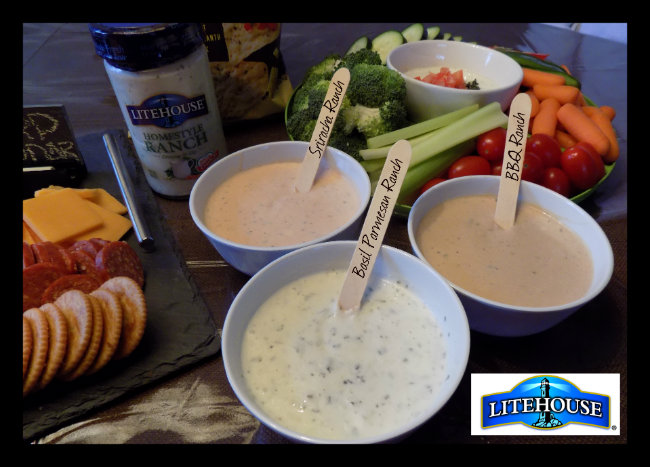 Sriracha Ranch
1/2 jar of Litehouse Homestyle Ranch
4 to 6 packets of Sriracha Sauce (To Taste)
BBQ Ranch
1/2 jar of Litehouse Homestyle Ranch
1oz of your favorite BBQ Sauce
Basil Parmesan Ranch
1/2 jar of Litehouse Homestyle Ranch
3 tablespoons Parmesan cheese
2 Spoonfuls Litehouse Basil
Just mix each of the combinations above really well, serve individually and enjoy with anything that strikes your fancy. So yummy.
These 3 recipes were all delicious! I especially loved the Basil Parmesan as did my family. They were delicious with the veggies, chicken tenders and I even enjoyed dipping my cheese in the various dips and eating with a delicious cracker! YUM! Check out my own special dip creation using Litehouse Homestyle Ranch…… I call it Horseradish Tomato Basil. Litehouse Homestyle Ranch really is the perfect base to create delicious dips and spreads to suite anyone's taste buds for your next friends and family gathering. My kids loved the veggies with dip and there seriously is no better way to get them to eat those veggies and this will be a staple in my fridge for sure going forward.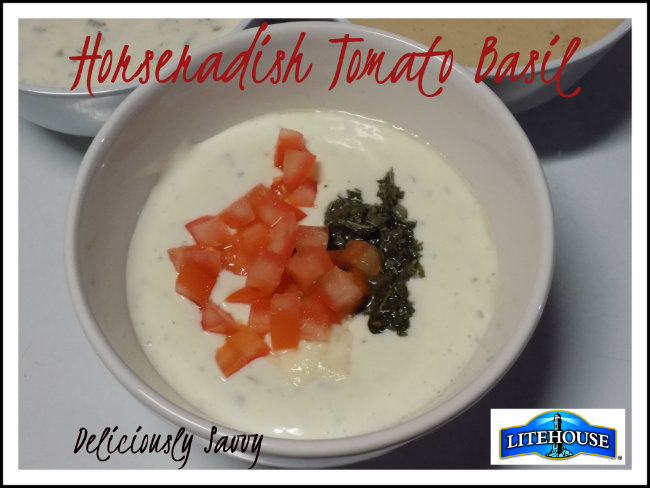 The perfect dip for anything! Perfect for fresh veggies, cheese and crackers, chicken tenders, chicken nuggets, fried shrimp, and even delicious with steak skewers. The horseradish can be tweaked to suit your tastes. I love it a bit strong and the basil and chopped tomatoes cool it down a bit.... steak with horseradish is amazing!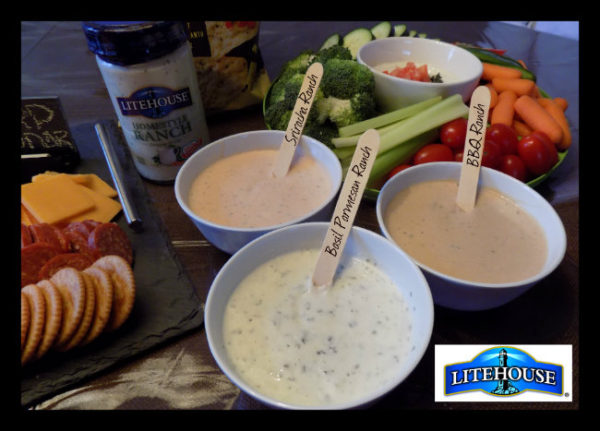 | | |
| --- | --- |
| | |
Mix all ingredients and serve with your desired accompaniments. Anything you would like and that you know your guests will love!
This is perfect for anything and anything... as far as dipping goes. Simply delicious. Great with potato skins too!
As Always, Thank You For Visiting Deliciously Savvy Today and Leave Some Comment Love While You Are Here! What Is Your Favorite Dip Recipe Idea? Tell Me All About It!
Save
Save
Save
Save
Save