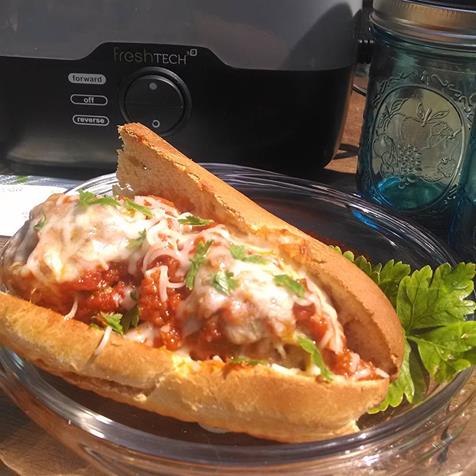 Deliciously Savvy's Homemade Marinara Sauce and Meatball Recipe! #CanItForward

First I will List The Sauce Recipe… Then The Meatballs! The Sauce Recipe is from the Ball Recipe Collection and the Meatball Recipe is a family recipe I have tweaked a bit. Enjoy!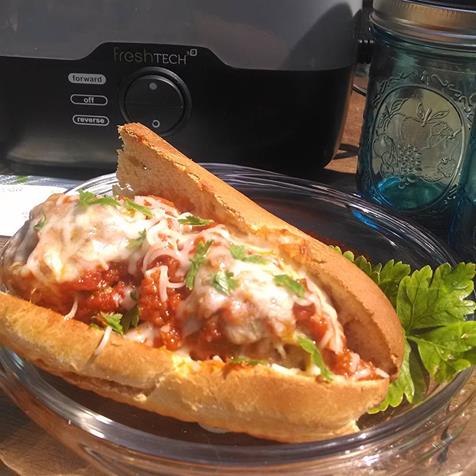 First You Have To Make The Sauce! DELICIOUS!
Marinara Sauce With Herbs

*12 lbs Fresh Plum (Roma) Tomatoes
*6 Cloves Garlic (crushed or chopped)
*1 Tbsp Salt
*1/2 tsp freshly ground black pepper
*1/3 cup Freshly Chopped Parsley
*1/4 cup freshly chopped Basil

WASH tomatoes, remove cores and cut into quarters. Combine Tomatoes, onions, garlic, salt and pepper (I even added a bit of crushed red pepper flakes… just a little)…in a stock pot and cook over medium heat, stirring occasionally, about 10 minutes until soft. (Cook in batches if needed.) Remove from heat and allow to cool for about a half hour.
PROCESS tomato mixture through the appliance into a bowl, in batches as needed, using the standard screen with splash guard to remove skin and seeds. Transfer the sauce to a large sauce pot and bring to a boil over high heat. Reduce heat to low and simmer stirring occasionally, until sauce reduces to desired consistency. Remove from the heat and stir in the herbs.
You can can the sauce at this point using the below directions…. but I used mine immediately and did not can as of yet.
Your Sauce Is Ready!
Italian Homemade Meatballs

*1/2 a cup of dry breadcrumbs or Panko breadcrumbs
*4 large eggs slightly beaten
*4 tbsp milk
*3/4 cup finely grated Romano Cheese
*1/4 cup freshly shopped parsley
*salt and pepper
*2 lbs Ground Beef

Mix Everything together by hand. Do not be rough with it… you want those meatballs juicy and delicious!
 Form into meatballs… some like them big and some like them small. Choose your size 🙂
Brown then in a skillet on all sides… adding a bit of Olive Oil to the pan if needed.
Add to the sauce while it is simmering and reducing. The longer you simmer… the richer and more delicious the sauce. I have simmered up to 5 hours… depending on the sauces consistency.
NOW… Deliciously Savvy's Homemade Marinara Sauce and Meatball Recipe!!!
*Simply purchase some delicious Italian Bread (Semolina with the seeds is my favorite!)
*Heat the sauce with meatballs
*Toast the bread to your desired liking… I like it toasty and actually I create my pocket in the bread and add a bit of Mozzarella Cheese to the bottom when toasting.
*After toasting a bit to heat the bread add the hot meatballs and a bit of sauce.
*Top with more homemade Marinara Sauce with Herbs.
*Top with shredded mozzarella and place under the broiler for a minute or two.
*Sprinkle with some freshly topped Parsley and you are set! You can add a bit more sauce on the side for dunking 🙂
That is it! Enjoy Your Delicious Meatball Parm Hero!
Keep in mind this is delicious on top of Al Dente Pasta as well! So Delicious and Savvy! You can Freeze batches as well and reheat as needed and I swear it gets better each and every time you eat it!
As Always, Thank You For Visiting Deliciously Savvy Today and Leave Some Comment Love While You Are Here!
Save