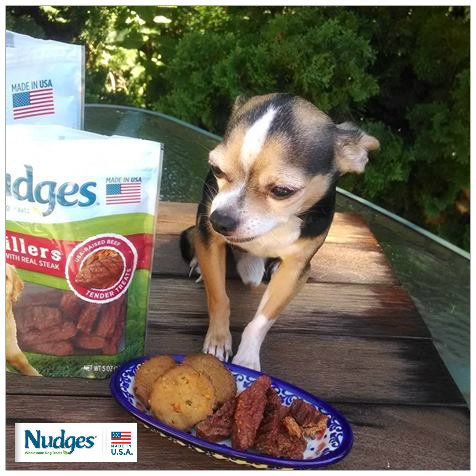 Chewey Loves Nudges® Grillers and Sizzlers Dog Treats Available at Walmart! #NudgeThemBack #ad
Chewey Loves Nudges® Grillers and Sizzlers Dog Treats Available at Walmart! #NudgeThemBack
This post is sponsored by Nudges® Dog Treats and the BlogPaws® Pet Influencer Network™. I am being compensated to help create awareness about Nudges Wholesome Dog Treats available at Walmart but we only share information we feel is relevant to our readers. Nudges Dog Treats is not responsible for the content of this article.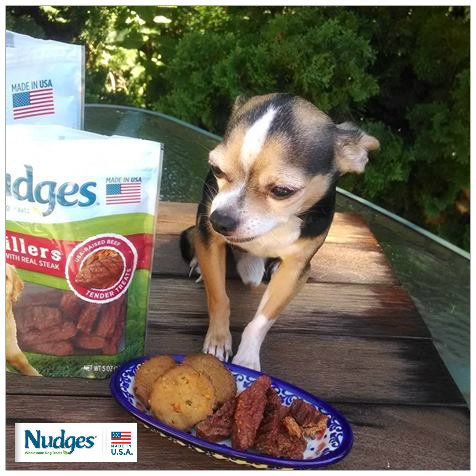 Chewey is loving Nudges® Grillers and Sizzlers Dog Treats! I am so thrilled to let my Savvy readers know about this new and delicious line of treats that Chewey is truly enjoying. My furry friend only deserves the best! I grabbed a few bags while visiting my local Walmart last week as I had run out of bully sticks, and I can tell you that this will be a new "must have" addition to Chewey's feeding routine as he has fallen in love with their delicious flavor and texture. Nudges Sizzlers and Grillers are delicious dog treats that allow you to give your dog something special and tasty. Chewey thinks he is eating food that we are having when he is enjoying his Nudges treats and I like that. He feels that he is a part of the family… eating like us and enjoying every moment of it. Chewey is family so I love feeding him like family.
I especially love that these delicious treats are 100% real. Nudges® dog treats are made with real chicken, pork, duck or beef. They don't contain any artificial flavors or fillers – just all of the good stuff. Another thing that I love about Nudges® is that they are made in the USA! Nudges® is proud of their products and they ensure that their products meet all pet food safety rules and regulations and this makes me feel better about providing him with these delicious treats for sure. I love anything made in the USA and Nudges® Wholesome Dog Treats are no exception. Chewey loves the amazing taste and flavor of Nudges® Wholesome Dog Treats and I love knowing that I am giving him a treat that he truly enjoys. Nudges® provides your dog with tasty, high quality treats that your dog will love and that you will love giving to them! It is a win win for both of us!
As you can see… Chewey is licking those lips after having a few treats! Because he is a small dog… I do tear these treats into small pieces for him and he just devours them! This is for sure his favorite line of treats! I got him the Nudges Grillers in Steak and I also got him Nudges Homestyle Chicken Pot Pie Flavor because I just knew that he would love them. He actually loves them both equally and honestly… the Nudges Grillers are his favorite! I highly recommend Nudges® Wholesome Dog Treats to anyone that has a Furry BFF of their own!
On your next visit to Walmart, stop by the pet section and pick up a bag or two of Nudges® Wholesome Dog Treats.
Make sure you visit Nudges Facebook Page. The Nudges® Dog Treats Facebook Community is dedicated to celebrating the joy dogs bring to our lives. You can discover adorable user submitted photos, money saving coupons for Nudges Dog Treats and inspiring stories of our four legged friends. You can check them out on Twitter too.

As Always, Thank You For Visiting Deliciously Savvy Today and Leave Some Comment Love While You Are Here!
This is a sponsored conversation written by me on behalf of Nudges. The opinions and text are all mine.
Save
Save
Save
Save
Save
Save