The Capresso Ultima PRO ~ Delicious and Fabulous Espresso's & Cappuccino's Each and Every Time!
I received this product in exchange for an honest and unbiased review and all opinions are 100% my own. Regardless… I only review products that I am truly interested in for myself and my family and of course for sharing those reviews with my savvy readers! Thanks for stopping by and enjoy!
It is no secret that my household contains a ton of coffee drinkers and my mother-in-law and my husband absolutely love espresso and cappuccinos. They are Italian and make these delicious coffee specialties whenever family is over for get together's. The Capresso Ultima PRO is just perfect for these gatherings and honestly… we have been enjoying espresso's and cappuccino's regularly since receiving this fabulous machine. We just love it! It works beautifully and creates delicious espressos and cappuccinos that any coffee connoisseur will love. No need for those expensive coffee shops anymore! I even blended my cappuccino this past weekend with ice and made my own homemade frozen coffee delight!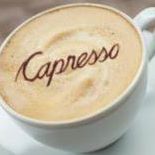 FACEBOOK ~ TWITTER ~ PINTEREST ~ INSTAGRAM
Check out all of the Features and Benefits:
15 bar pump provides optimal pressure for rich crema, the thin layer of foam that is the mark of a perfectly brewed espresso
Programmable cup sizes for 1 or 2 espressos
Heavy-duty construction with polished stainless steel accents
Illuminated icons for ease of use
Large, self-tamping portafilter with two included 58mm sieves for 1 or 2 cups
Illuminated buttons
Powerful frothing wand for latte and cappuccino
34-oz. removable water tank
Hot water function for Americanos or tea
Easy to clean removable drip tray with overflow indicator
Automatic shut-off after 30 minutes
Coffee scoop included
Integrated storage space for accessories
The Capresso Ultima PRO has so many fabulous features. This bad boy features a large self-tamping portafilter for incredible ease of use. This machine is the perfect choice for easily brewing delicious espresso and cappuccino's at home. There are 2 independently prgrammable cup buttons that can be set for up to 6oz of espresso. You simply push and hold either of the buttons and watch as the delicious liquids are dispensed into your cup. Once you have made that perfect cup… you simply push and release the button again, to lock in the setting. The Capresso Ultima PRO also has a powerful milk frother that creates steam for thick and rich cappuccinos (my favorite), while the hot water setting can be used for other delicious drinks…. such as aromatic Americanos.
This beautiful machine has polished stainless steel accents and is made beautifully to be the centerpiece on any kitchen counter top. It also has a large warming platform that keeps your cups at the perfect temperature for each cup that you brew and it also keeps your extra accessories neatly stores on top of the machine. The water-level window gauge is super handy and lets you know when it's time to refill the removable tank. I love that! You can take the tank out and clean it regularly and so easily! It also has a drip tray overflow indicator that lets you know whe  to empty any waste water without a huge mess. All of the features are what makes the Capresso Ultima PRO the only Espresso / Cappuccino maker that you could ever want or need.
As Always… Thank You For Visiting Deliciously Savvy Today and Leave a Comment or Two While You Are Here!
Announcement List