My Savvy Review Of Teasia Teas! The Perfect and Delicious Hot Drink For These Cold Winter Months #TeasiaTeas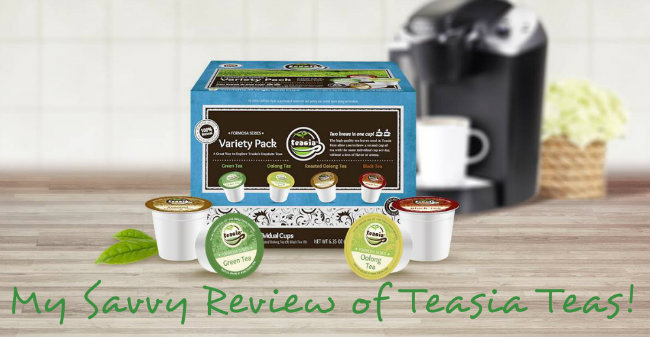 Deliciously Savvy received this product in exchange for an honest and unbiased review and all opinions are 100% my own. Regardless, I only review products that I am truly interested in for myself and my family and of course for sharing those reviews with my savvy readers. Thanks for stopping by and enjoy!
I am so super excited to have tried the Teasia Teas Formosa Series Variety Pack of KCups! They are delicious and perfect for our hot cups of tea in the evening and my husband has been in heaven since I got them. I personally am a huge tea fan for many reasons. I am from the south and am a huge fan of southern brewed sweet tea but I also enjoy a delicious hot cup of tea as well in the winter months. These KCups are fabulous and provide you with the perfect cup of hot tea in a variety of flavors and varieties. Each KCup provides 2 brews as well which I thought was genius and savvy! I love hot tea with a bit of milk and sugar and there is nothing more warming and perfect for those cold winter months. These are the perfect accompaniment for desserts and treats when you have friends and family over as well and are a great addition and option to the typical hot cups of coffee. You can even provide a "hot tea bar" for your friends and families to enjoy!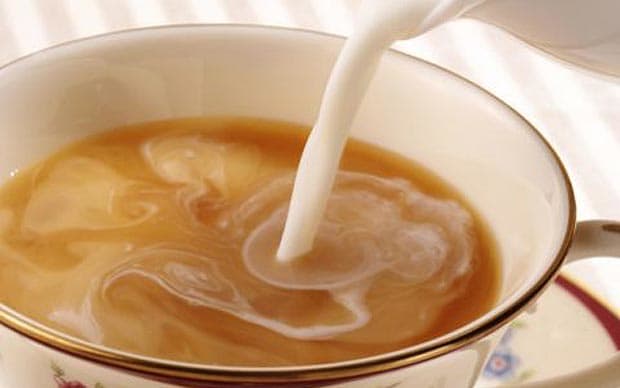 This is how I like my hot tea 🙂
The Formosa Series Variety Pack provides you with 4 delicious varieties of tea. Each box includes Teasia's 4 flavors from their Formosa series: Green Tea, Oolong Tea, Roasted Oolong Tea, and Black Tea. This provides you with the perfect cup of tea for everyone in your home and is the perfect option for serving friends and family when they stop by for get together's and family functions as there is a tea for everyone! Remember too that each KCup provides 2 delicious cups of delicious tea!
I also have to mention that I love the many health benefits of tea as well. For a long time, tea has been promoted for having a variety of health benefits. Centuries ago in ancient China, tea was considered an elixir for its perceived medicinal properties. Nowadays, there is more specific evidence to support the belief that tea is indeed a healthy beverage with wide-ranging medical benefits. Check out the benefits below:
Fight Free Radicals: All teas from the camellia sinensis plant are rich in antioxidants known as polyphenols, specifically catechins. Catechins are the key to tea's health benefits – they detoxify cell-damaging free radicals in the body.
Boost Metabolism: Different studies have shown that tea drinking can help maintain a healthy weight and boost metabolism. Green and oolong teas contain polyphenols that help block fat-building enzymes. Another study showed that compared to non-tea drinkers, regular tea drinkers had lower body mass indexes, waist-to-hip ratios, as well as less body fat.
Reduce Stress Levels: Black tea has been found to reduce levels of stress hormones and help lower blood pressure. It has also been found to neutralize the negative effects of high-fat meals on arterial blood flow.
Improved Bone Strength: Particularly in the wake of osteoporosis, the polyphenols in tea have been found to improve bone quality and strength. Studies have found that tea drinkers aged 50 and older were 30% less likely to have a hip fracture than non-drinkers.
Heighten Mental Awareness: Drinking tea has been found to facilitate better focus on tasks and improve attention. The caffeine and amino acid theanine in tea is thought to bring psychological benefits to drinkers, strengthening their mood, attention, and performance.
WEBSITE ~ FACEBOOK ~ TWITTER ~ INSTAGRAM ~ PINTEREST
So, as you can see not only is tea delicious and comforting in the cold winter months (and hey… you can do iced coffee in the summer!)…. but there are tons of health benefits that will make you take notice! Teasia carries several varieties and several variety packs of teas for you to enjoy and they are so easy and fun to make as you just pop them into your Keurig and… poof…. you have a delicious and comforting hot tea any time you would like! This is the perfect gift for those tea lovers on your gift list as well! Check Teasia out today on their website and social media!
Do you drink hot tea? Do you have a favorite variety that you prefer over others? How do you like it served? Leave Deliciously Savvy some comment love today and tell me all about it! Thanks for stopping by and enjoy.
Announcement List