The Krusteaz Cookie Mixes Are Delicious Anytime! PLUS a Giveaway! Ends 1/14 #Krusteaz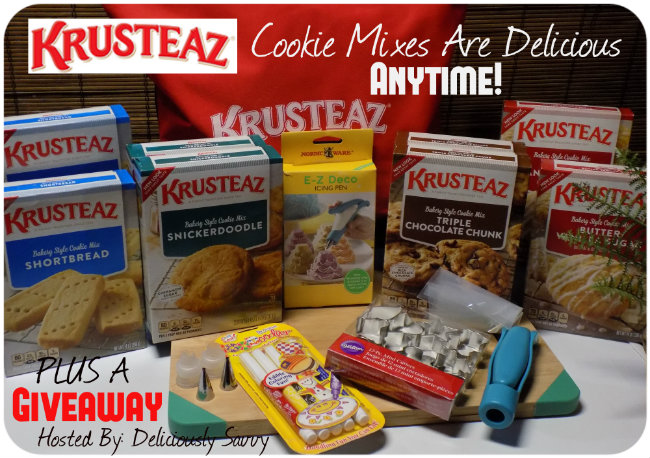 Deliciously Savvy received these products in exchange for an honest and unbiased review and all opinions are 100% my own. Regardless, I only review products that I am truly interested in for myself and my family and of course for sharing those reviews with my Savvy Readers! Enjoy!
It is no secret that I love cooking and baking. I just love it anytime of the year. Any holiday is the perfect reason to get into the kitchen to bake and make delicious treats for friends and family and Krusteaz makes it so easy and so delicious! Seriously… their mixes taste divine and my family just gobbled them up! I could not believe how quickly they enjoyed them. I have to remember to save a few for myself next time. 🙂

FACEBOOK ~ TWITTER ~ INSTAGRAM
So I made sure to enjoy the Krusteaz Butter Vanilla Sugar Cookies for Christmas. I followed their directions on the back of the box to make the dough ready for cookie cutting and it worked fabulously. I used the adorable cookie cutters pictured above and they provided perfectly bite sized sugar cookies that were perfect for Christmas Eve, Santa and Christmas Day. They looked so fabulous and festive PLUS they tasted so rich and buttery and they were super soft and chewy! My family raved and seriously could not keep their hands off of them.
Here is a picture of how they turned out: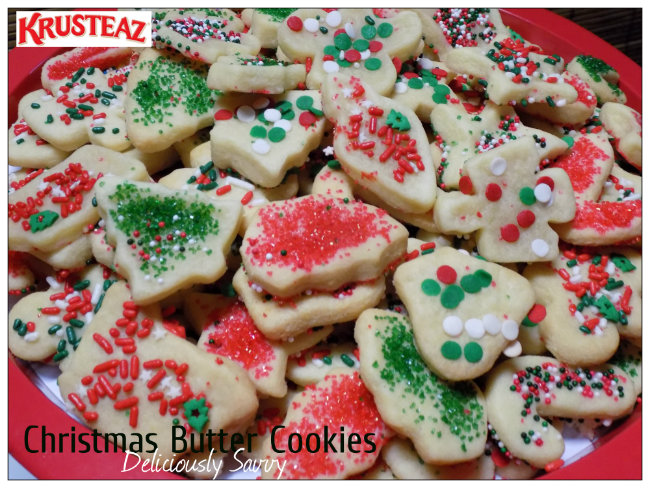 Next we made the Krusteaz Triple Chocolate Chunk Cookies. Oh my were these delicious and so easy to mix together and the taste was buttery, chocolatey and they were so soft and gooey. These went super fast…. like I seriously think they vanished into thin air as they disappeared so quickly. That is the sign of a delicious cookie for sure. These are packed with Chocolate too…. I was so surprised at how delicious the chocolate chips were and how many there were in each and every cookie. These are perfect for Chocolate Chip Cookie fans for sure!
Here is a picture of how they turned out: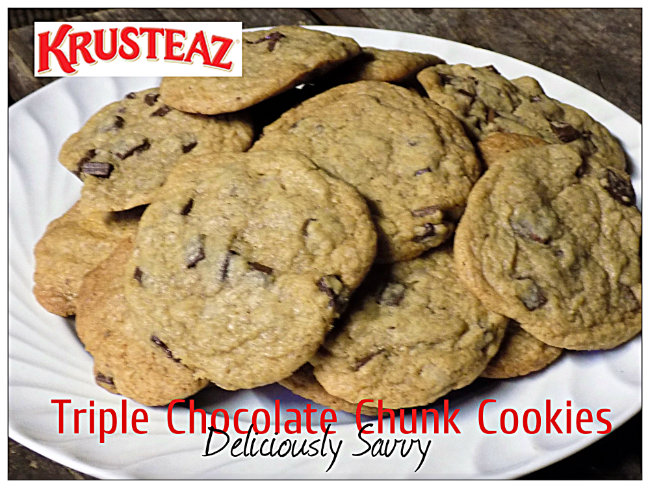 I still have 2 flavors to play with and I cannot wait to add them to this post. I still have to try the Krusteaz Shortbread Cookie Mix and the Krusteaz Snickerdoodle Cookie Mix! I know they will be equally delicious! Makes sure that the next time you are out that you keep an eye out for Krusteaz Cookie Mixes for yourself as I know that you will truly love them and enjoy them just like my friends and family do! They are easy to make and taste as if you have spent hours mixing the perfect ingredients together to create the most delicious and chewy cookies ever!
And Now The Giveaway!

THE DETAILS:
1 Lucky Winner Will Receive:
2 Boxes each, of the following Krusteaz Cookie mixes: Shortbread Cookie Mix, Snickerdoodle Cookie Mix, Triple Chocolate Chunk Cookie Mix, and Butter Vanilla Sugar Cookie Mix.

1 Krusteaz Branded Tote Bag
1 Nordic Ware E-Z Deco Icing Pen

1 Package Wilton Mini Cookie Cutters

1 Package Edible Icing Markers
Giveaway Dates ~ Starts 12/31 2PM EST & Ends 01/14/2017 11:59PM EST

Entrants must be 18 years old to enter and giveaway is open to US residents only

Any Questions Email Me At mcushing7 (at) hotmail (dot) com.
This giveaway is in no way endorsed, affiliated or associated with Facebook,
Twitter or any other Social Media Networking Site. This giveaway is valid only
in the United States. Entrants must be 18+ years of age to enter.
This giveaway will end at 11:59PM (EST) on 01/14/2017.
Good Luck! Enter Below

Also we all "love it if you like us" on Facebook!
By Supporting Our Blogs Via Social Media You Are Helping Us To Provide Fabulous Prizes For Amazing Future Giveaways! Good Luck & Thank You!
Deliciously Savvy did not receive any form of compensation for this giveaway other than receiving this above items in order to facilitate my review. Once winner is selected via the Giveaway Tools process, the product will be shipped. Winner has 48 hours to respond or another winner will be chosen. No other blog associated with this giveaway is responsible for the product shipment. Krusteaz will be providing the prizes above to the winner. Thank You for stopping by! Any Questions or Concerns email me at mcushing7 (at) hotmail (dot) com.
If you have any questions or are a brand/company and would like to work with Deliciously Savvy please contact us here.
As Always…. Thank You For Visiting Deliciously Savvy Today and Leave Some Comment Love While You Are Here!
Save
Announcement List